I Read The News Today Oh Boy! 5-Oct-2017
Morning All!
Trading Update (Full Year To End April 2018) and Temporary Suspension Of Trading – This is bad news indeed...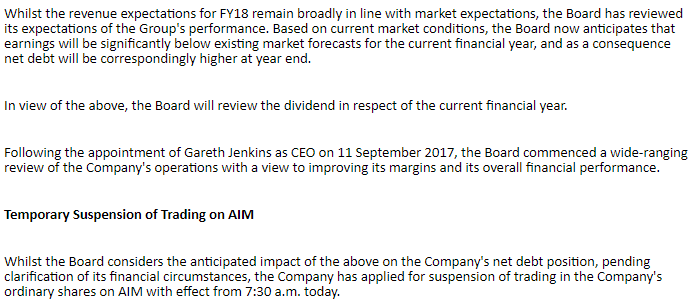 I looked back and read thelast SCVR update on this company and it seems Paul may get his chance – He stated "Will probably get more interesting when something goes wrong and the shares can be bought for a recovery!" - How did he know!!!!!!!

Condolences to holders here - Anyone spot this coming, red flags anywhere?
Preliminary Results For The 52 Weeks Ended 29 July 2017 – This doesn't look good to me (even taking into account the Special Dividend)…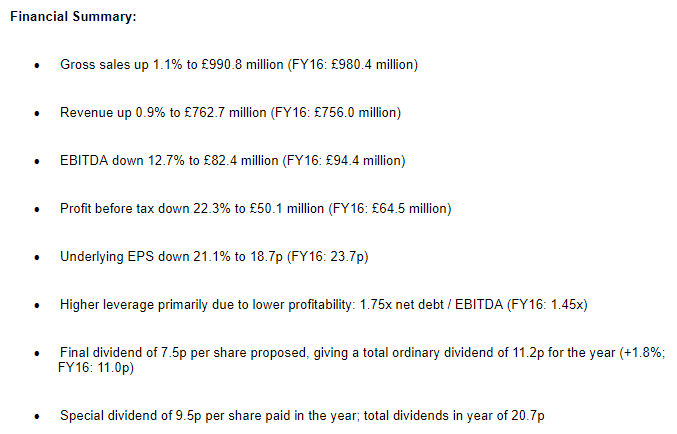 I would expect some downside here this morning.
Trading Update For The 6 Months To End March 2018 – First half revenues increased by approximately 30% compared to the previous period to more than £3.6m, £2.8m previously - Cash balance also improved. This seems generally positive - Stockopedia classes it as "Speculative" and one could even be tempted to take a punt here. I think it's worth keeping an eye on future updates – Until there is a confirmed return to profitability.
Interim Results For The 26 Weeks Ended 26 August 2017 – Revenue up 14.8% to £54.2m (£47.2m last time), Net loan book growth of 16.0% to £65.2m (£56.2m last time) and a 12.6% increase in customer numbers to 233,000. This sounds great until...
Adjusted PBT is only slightly up from £8.6m to £8.7m and the interim Dividend is up just 0.1p, from 2.1p to 2.2p.
A so-so update for me which seems to disappoint. The Adjusted PBT and interim Dividend increase don't seem to support even a low PER of 11.7.
Appointment of CEO and Trading Update (for the 6 months to end September 2017) – New CEO announced and trading confirmed as "in-line with management expectations". Net debt is down to £33.3m (from £39.5m according to Stockopedia), which is ahead of management's expectations. This may help the depressed share price here somewhat, not tempting enough for me though.
Will certainly be interested to see how the market treats DFS, IGP and MCL...

Unlock the rest of this Article in 15 seconds
Already have an account?
Login here