International SIF: Shopping for bargain US & Euro stocks
Since October, UK stock markets have fallen quite sharply. A lot of this has been blamed on Brexit uncertainty, and I suspect this probably is one cause. But it's equally obvious that many businesses listed in the UK and overseas won't be affected by the UK's attempt to leave the EU.

I think it's fair to say that other concerns are weighing on the market too, such as rising US interest rates and the eventual end to cheap money that this seems to imply. To get a rough picture of what global markets are doing, I've used Stockopedia's chart feature to put five leading stock indices on one chart. It's clear that markets are falling all over the world: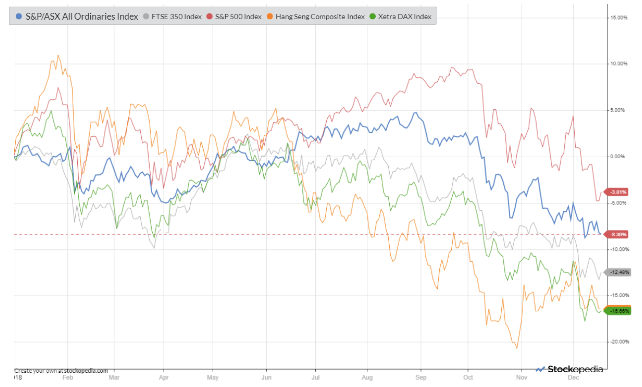 My International SIF portfolio has not escaped unscathed. At the time of writing, this portfolio had fallen by around 19% so far in 2018: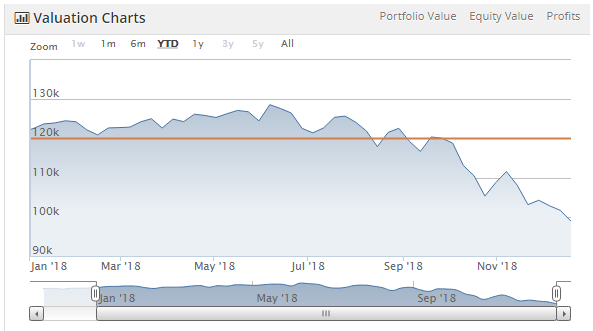 (The blue line is the value of the portfolio, the orange line is the original cash deposit)

Happily, there is some good news for me. An analysis of the current International SIF stocks suggests that in aggregate, they're cheaper, faster growing and have a higher yield than the market average (the dark blue is my portfolio, light blue is market average):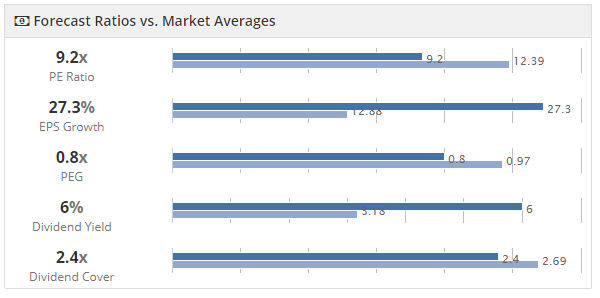 This doesn't guarantee that my selections will bounce back when market conditions improve. But it does perhaps suggest that the odds are in my favour, if I hold onto the shares long enough.

Let's go shopping
As I explained recently, I don't plan to make any changes to my rules-based strategy to cope with Brexit or (almost) any other situation. So with that in mind, I'm going to carry on picking new stocks for the International SIF from my screen results.
Let's start with a look at the portfolio as it stood on 19 December: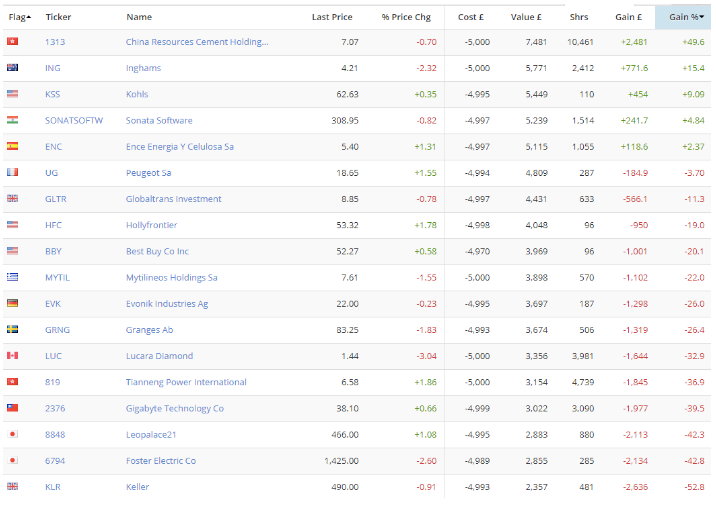 Apologies if the numbers are hard to read. My top-performing stock remains Hong Kong-listed China Resources Cement Holdings, which is up by nearly 50%. Down at the bottom is troubled groundworks contract Keller, which is down by about 50%.

One aspect of the portfolio I'm actively changing is its geographic distribution. Here's how things stood ahead of this update, versus my target allocations: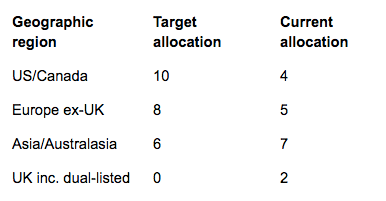 Because…

Unlock the rest of this Article in 15 seconds
Already have an account?
Login here