Is Bango (BGO) a Minervini Stock, looks like it might be....
Having just finished Mark Minervini's book "Trade Like a Stock Market Wizard", I have found myself quite taken by his techniques. 
From what I've learned, and I do feel I need to read the book again, Minervini is keen on revenue and earnings growth and also improving margins. No rocket science there. However he also dovetails this with price and volume action. Specifically the stock needs to be in an overarching up-trend.

It would seem to me that Bango (BGO) meets many of Minervini's criteria. Bango provides a mobile payments platform, customers procure products using their mobile device and these items appear on their phone bills. 
They have recently done a deal with Amazon Japan and two Japanese mobile phone operators that account for 75% of the telephony market. Apparently half of all online transactions in Japan are done on a mobile device. Additionally new deals with South Korea and Nigeria are in place, these countries have online procurement habits similar to Japan. To cut a long story short Bango is growing rapidly and is now at a point whereby revenue is more than the cost of providing the platform, as a result Bango is now profitable on a monthly basis.
Given that a picture is worth a thousand words, here are some pictures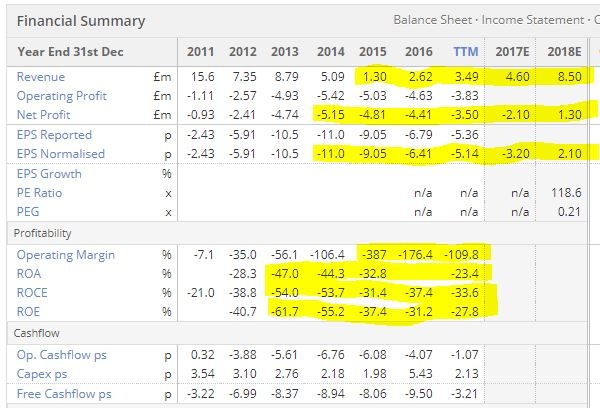 As you can see an improving situation, and now we know they are profitable too on a monthly basis, therefore the forecast for the full year to 2018 seems very achievable. But price action is what we really need to take notice of, as fundamentals and technicals need to match :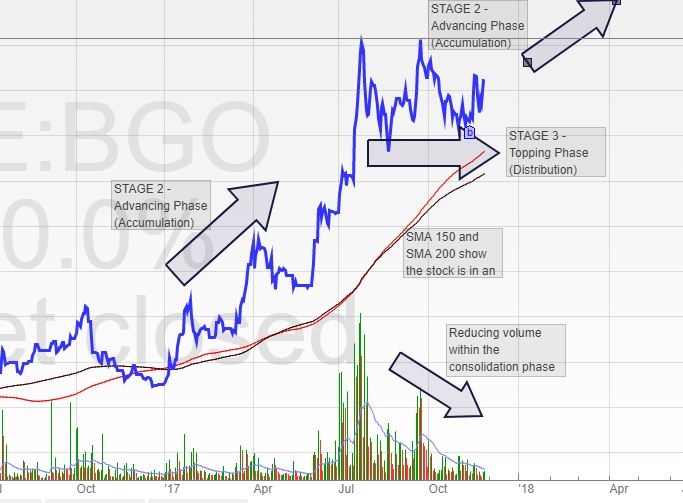 Points to note here are : 
Bango is in an established up-trend demonstrated by the SMA's
The stock is currently in a Stage 3 Topping Phase having completed a successful Advancing Stage 2. The key point here is that whilst in Stage 3 the share price range is starting to narrow.
The most telling aspect is the very visible and reducing volume within Stage 3, of all the stocks I've looked at, this is the first that has demonstrated such a dramatic fall off in volume. Minervini sees this as a key attribute within Stage 3.
So in summary it feels like Bango has the potential to be one of Minervini's super stocks. Obviously I welcome any thoughts and feedback.

Unlock the rest of this Article in 15 seconds
Already have an account?
Login here