J Sainsbury - now the seventh largest UK clothing retailer by volume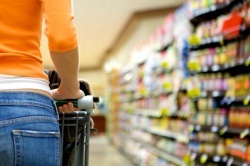 Another solid year of trading at J Sainsbury (LON:SBRY) has seen further market share gains and like-for-like sales growth despite economic conditions. The group has also moved ahead to become the seventh largest clothing retailer by volume in the UK.
The supermarket concept still has legs as it branches away from food.  Sainsbury's ambition is highlighted by the group's TU brand which is looking to launch women's fashion lines designed by Gok Wan later this year.
Sainsbury's aims to devote 40pc of space to non-food items which the group is hoping will come to account for a third of sales growth.  The group points to only around 15% of the UK non-food market being accounted for by supermarkets as a sign of the potential.  Currently a quarter of sales (ex-fuel) come from non-food but this is expected to grow strongly over the next ten years.
Looking at the operational performance of Sainsbury's and the group saw a slight gain in market share to 16.3%, from 16.1%, over the 52 weeks to 20th March 2011. Like-for-like sales were also positive at 2.3% for the financial year ended 19th March 2011.
Turning to growth and with 1.5m sq ft of new store space delivered in 2010/11 the group exceeded its 15% target by just over 1%. This is driven by 68 new stores opened last year bringing the total number to 934.
The focus is on convenience stores and geographic areas where Sainsbury's isn't strong - Scotland, the South West and Wales. Local convenience stores broke through the £1bn sales barrier for the first time and online sales increased by 20%.
With a good operational performance driving like-for-like sales and underlying store growth Sainsbury's saw total revenue increase by 4.9% excluding fuel. This came through to the bottom line with underlying profits before tax up 9% to £665m and underlying EPS up 10.9% to 26.5p. As such the group has increased the dividend by 6.3% for the full-year to 15.1p.
Going forward clearly the economic picture for the UK is looking difficult.  The last quarter of Sainsbury's was particularly weak although the Xmas quarter did see record sales.  These pressures also affect the group itself but so far it has managed to generate cost savings to offset inflationary pressures - the underlying operating margin actually rose by 14 basis points.
However, tough economic conditions provide…

Unlock this article instantly by logging into your account
Don't have an account? Register for free and we'll get out your way
Disclaimer:
Fat Prophets has made every effort to ensure the reliability of the views and recommendations expressed in its reports. Fat Prophets research is based upon information known to us or which was obtained from sources which we believed to be reliable and accurate at time of publication. However, like the markets, we are not perfect. This report is prepared for general information only, and as such, the specific needs, investment objectives or financial situation of any particular user have not been taken into consideration. Individuals should therefore discuss, with their financial planner or advisor, the merits of each recommendation for their own specific circumstances and realise that not all investments will be appropriate for all subscribers. To the extent permitted by law, Fat Prophets and its employees, agents and authorised representatives exclude all liability for any loss or damage (including indirect, special or consequential loss or damage) arising from the use of, or reliance on, any information within the report whether or not caused by any negligent act or omission. If the law prohibits the exclusion of such liability, Fat Prophets hereby limits its liability, to the extent permitted by law, to the resupply of the said information or the cost of the said resupply. 
---
---

J Sainsbury plc is engaged in grocery-related retailing and retail banking. The Company's segments include Retailing; Financial services, and Property investments. The Retailing segment is engaged in the operation of supermarkets and convenience. The Financial services segment includes the operations of Sainsbury's Bank plc (Sainsbury's Bank). The Property investments segment includes the Company's joint ventures with the British Land Company PLC and Land Securities Group PLC. The Company has approximately 2,000 food suppliers and over 1,000 non-food suppliers. The Company offers over 15,000 own-brand products and has approximately 770 convenience stores. The Company offers groceries under various categories, such as fruit and veg, meat and fish, dairy, chilled, bakery, frozen, food cupboard, drinks, health and beauty, baby, household, pet and home. Sainsbury's Bank provides a range of products, including insurances, credit cards, savings and loans. more »

LSE Price