Keith Ashworth-Lord Interview - How to invest in the best
The great US investor Warren Buffett once remarked: "The highest rates of return I've ever achieved were in the 1950s. I killed the Dow. You ought to see the numbers. But I was investing peanuts then. It's a huge structural advantage not to have a lot of money."
What he was saying is that the more money you have to invest (in his case tens of billions of dollars), the harder it is to make outsized returns. So what would happen if you took the essence of Buffett's strategy and used it on a smaller scale in the UK? Fund manager Keith Ashworth-Lord is finding out.
Five years ago Keith set up the Sanford DeLand UK Buffettology Fund. It's a concentrated fund with a strict methodology that's just passed £50 million under management and growing fast. In 2015, it made an impressive 27% return in a falling market, propelling it to the top of the IA All Companies sector.
As the fund name suggests, Keith has adopted some of Buffett's best known investing traits. He takes a Quality + Value approach, looking for 'moat-like' characteristics right across the market-cap range. When he likes what he sees - and he can buy it cheap - he takes high conviction positions and holds them long-term.  
Keith runs the fund from his home turf in Manchester, where he's been a fixture in the city's investment community for 35 years. But he's just as well known among US 'Buffettologists', and close friends with the likes of David Clark and Mary Buffett (from whom the eye-catching 'Buffettology' branding is licensed).
He's also just written his own book - Invest in the Best - where he explores what he calls Business Perspective Investing and the financial clues to finding great quality companies on attractive valuations.
We agreed to meet for steak and chips at Malmaison, a stone's throw from his office. It's a lunch menu that Buffett would definitely approve of...
Early on in Invest in the Best, you mention that you wrote much of the book on the lanai of your Florida home. That's a pretty big hint that you've found an investing methodology that works very well for you!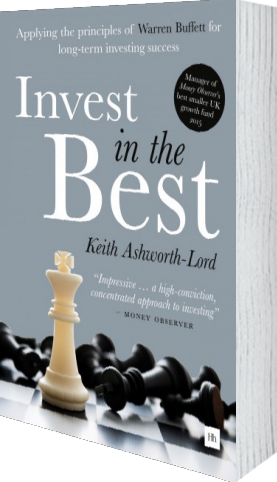 Ha! Well I wasn't saying it to show off. The point I was making is that had I not been successful with my investments I'd never…

Unlock the rest of this Article in 15 seconds