Long Term Sector Hold Idea
Using the Wyckoff method I'm always looking to see what sector ETFs are building large accumulation bases and breaking out. If the ETF has built a significant base then many of its component stocks will have also. One of the three Wyckoff Laws is Cause & Effect. Simply put, the bigger the cause the bigger the effect. A good analogy being the more fuel (cause) put in the fuel tank the further (the effect) you can travel. Another part of the Wyckoff methodology is the idea of the Composite Operator. The Composite Operator are those of most influence with huge sums to invest and take positions to hold for years / the business cycle.
Note below my Wyckoff analysis including structural phase analysis of the £ICLN ETF which is the iShares S&P Global Clean Energy Index Fund which has built a significant base spanning 3 years and is now successfully breaking out to the upside. Note the urgent Composite Operator accumulation in the latter phases, this is very bullish behaviour. I have also labelled my optimal Wyckoff entry points on the chart - Sign of Strength Breakout Bar (SoSBB), Backing Up Action Reversal Breakout Bar (BURBB) and the Major Backing Up Action Reversal Breakout Bar (MBURBB).
The top ten holdings of the ICLN ETF are:
£SGRE £ENPH Vestas Wind Sys Ord (LON:VWS) £968 (Xinyi Solar Holdings) £SEDG Ora Capital Partners Ord (LON:ORA) Critical Information Group Ord (LON:CIG) Mitsubishi Electric (LON:MEL) Vernalis (LON:VER) £PEGI
This could be a fruitful area of search for long term campaign stocks.
Best,
JC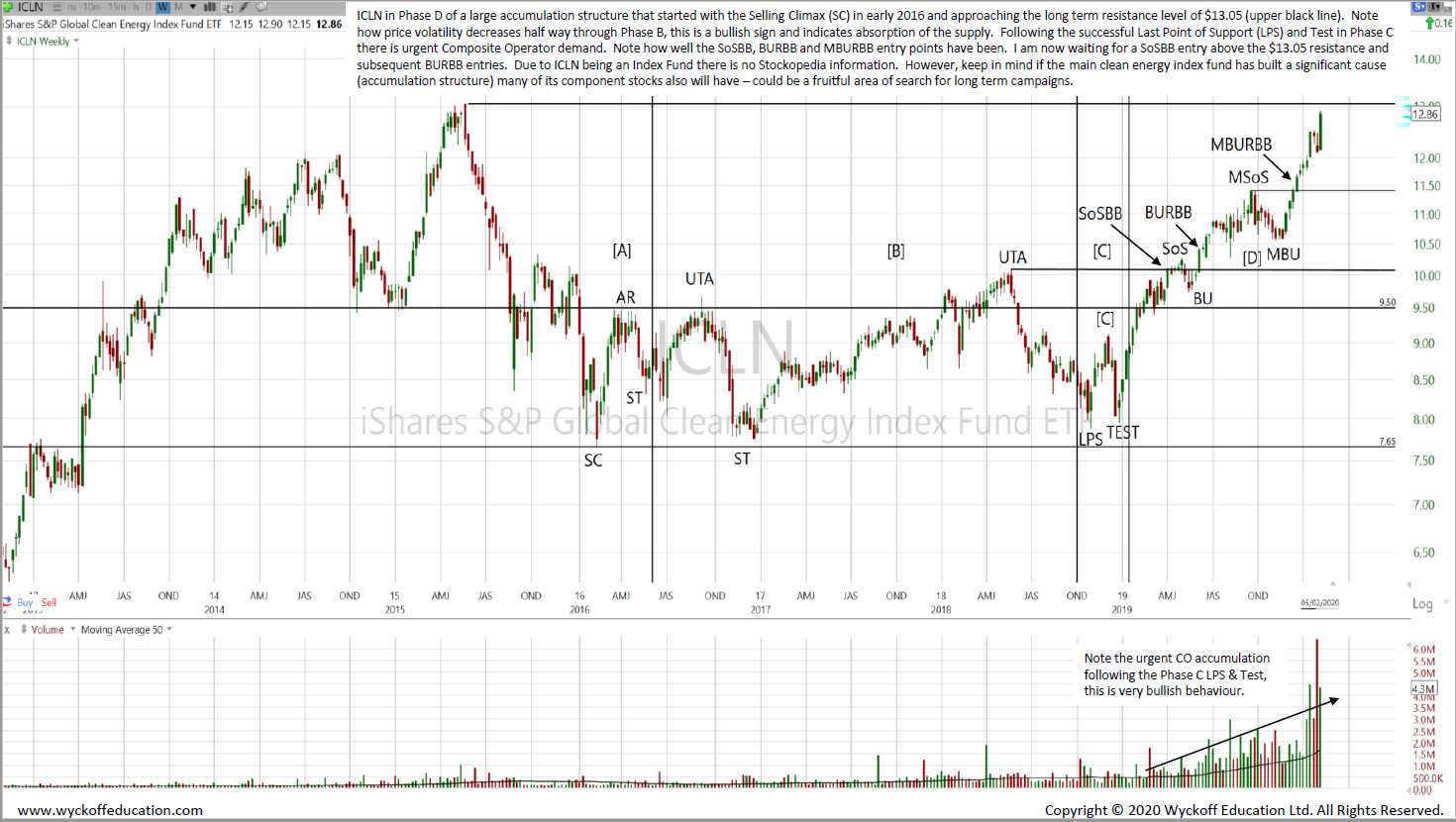 Unlock the rest of this article with a 14 day trial
Already have an account?
Login here