New Year NAPS - Top Stocks for 2018 and the Benefits of Ignorance
2017 has been a good year for stock market investors, but it's been a great one for NAPS investors. Over the course of 2017 this remarkably effortless stock selection system (that I'm now calling the "no-admin-portfolio-system") returned over 45% after dividends, beating the performance of 99.8% of 3295 professionally managed funds in the UK.
What's more this was achieved in less than an hour's work at the beginning of the year, with absolutely no research into any of the individual stocks in question.
So, I'm going to start the year with a review of the NAPS performance over the last 12 months before considering the difference between ignorance and stupidity.
Once I've convinced myself (again) that it's absolutely fine to know almost nothing about the individual stocks I'm selecting, I'll then publish the 20 stocks that have made it into the 2018 NAPS Portfolio.
And then I'll sleep on it for another year.
2017 Performance in Context
I've been running the NAPS portfolio since the end of 2014, and the performance has been, you might say, more than satisfactory. The portfolio has more than doubled (+115% before dividends) in these three years, with an average 29% annualised return.
Over this time period, the FTSE All Share has returned about 18.8% before dividends - at an average annualised return of 5.9%. So the NAPS has devoured the performance of FTSE index tracker funds by more than 20% per year since inception, and it's done this at considerably lower volatility.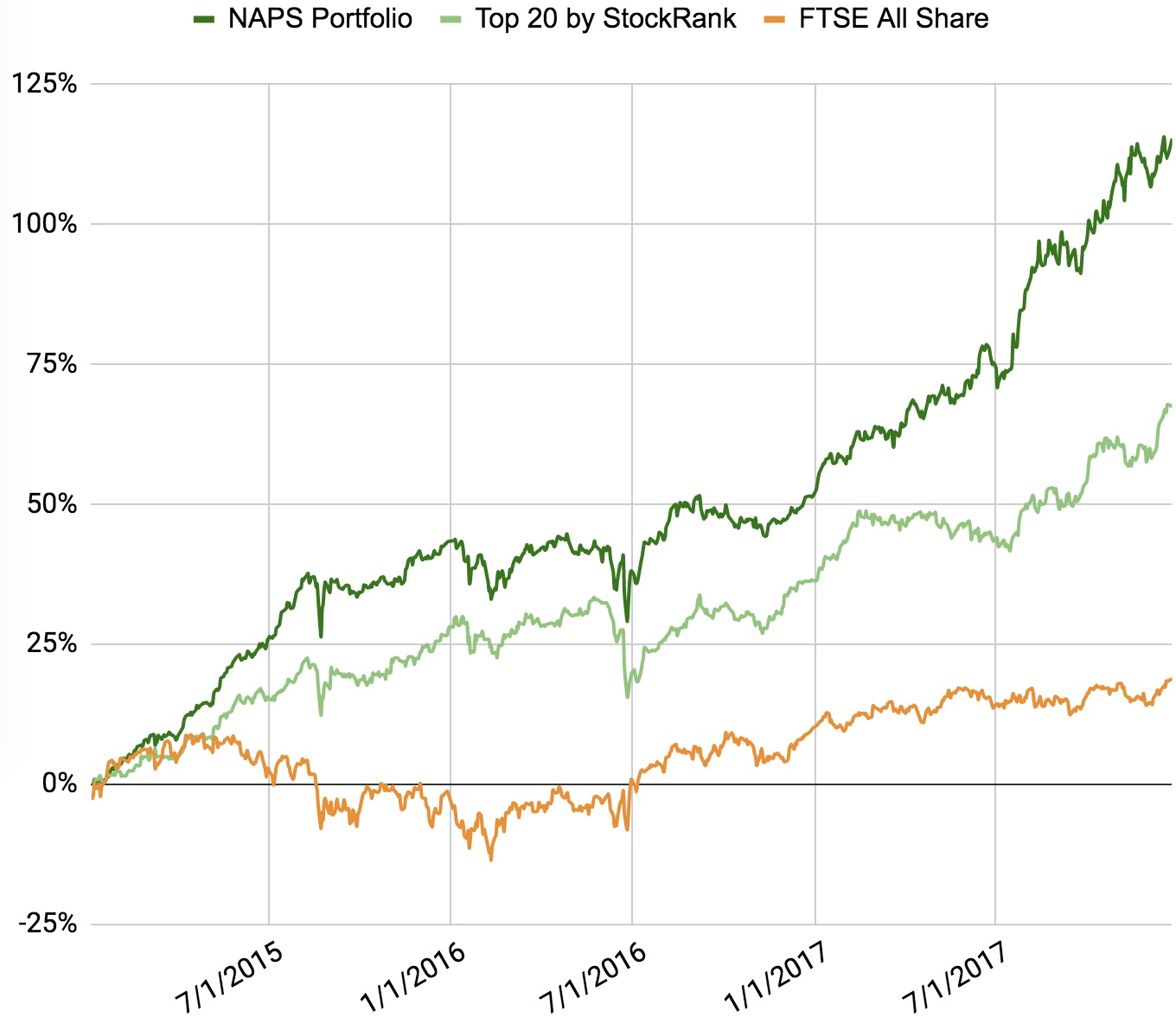 2017 has been the best year of the three years so far with 42.5% growth before dividends. The chart above contains three lines which are clearly labelled:
The dark green line is the 20 stock NAPS Portfolio (top two stocks by StockRank from each sector rebalanced annually).
The light green line is the performance of the top 20 stocks by StockRank (no diversification, rebalanced annually).
The orange line is the FTSE All Share.
Although it's a small sample, I do believe the above charts provide validation of the core ideas behind the NAPS - namely:
Factor investing can beat the market. (The green lines, based upon the StockRanks, dominate the market index).
Diversification across sectors can further improve returns, and reduce risk. (The dark green line beats the light green line).
The NAPS…

Unlock the rest of this article with a 14 day trial
Already have an account?
Login here