Oops UPGS-ide your head
https://youtu.be/JlMIzAl_nDo

Hello

On recent poor trading update a bit of SCVR chat got going on UP Global Sourcing Holdings (LON:UPGS) a 2017 IPO. The negative turn to trading first flagged in Sept 2017 has pummelled the price from over 200p to below 40p. Another crap IPO. Right price for some bottom fishing or just rotten stink?

On the recent plunge I decided to buy some shares. I did not know the company well, but on some quick reading I thought the plunge was overdone even if short term stress and uncertainty so I stepped in. Not a full position by me but enough to be significant. Since then I have looked a bit more and I lay out my views below.

Here's a summary analysis of revenue to EBIDTA based on available info from company with a low and high estimate for FY2018: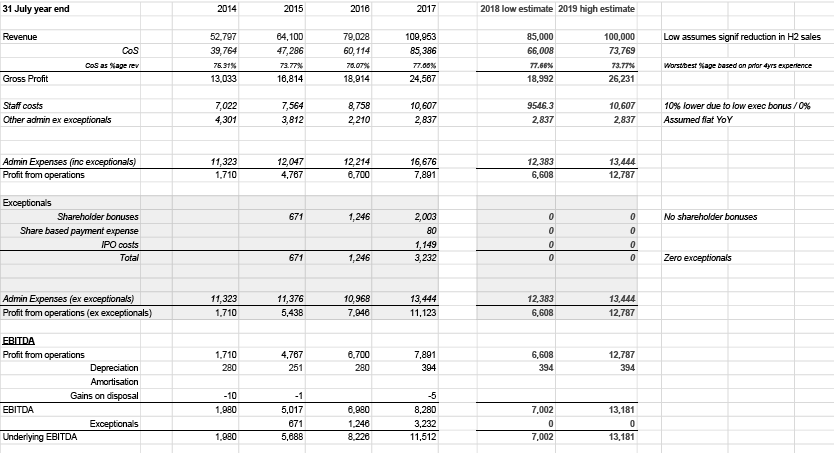 Note, the high and low estimate are for FY2018 based on revenue (typo in the sheet).

Some of the assumptions on rhs of table got chopped off, here's summary:
Revenue: Low assumes pretty bad H2, whereas high is assuming normal H2 vs H1 pattern adjusted for the £5m shift due to Landed rather than FOB with a customer
CoS used best and worse historic (low case worse)
Staff costs lower for low estimate as assuming low EBITDA bonus (see explanation at bottom) - of course not taken account of new hires but assuming not very impactful.
YoY admin flat 
Assuming no exceptionals (prior year shareholder bonuses and IPO costs and shouldn't impact this year)
The low estimate produces EBITDA that corresponds to current guidance of £6-7m...and the high estimate illustrates why this stock was holding down a market cap in excess of £150m at points in 2017 (with revenue expected to be something like £120m+)

Have they played the market to make out for the company owners at IPO? Well, of course they have! But I'm not convinced it's cynical. Perhaps its a bit hubristic and even too believing of their own hype. I think they were on a growth roll around IPO time. The business had been growing like a weed for a few years since buying out Lloyds Development Capital…

Finish reading with a 14 day trial
Already have an account?
Login here