Profit warning - How does one handle?
Recent past, in my watch list,I did observe profit warnings for #IXI and #LOOP and never thought I would get one in my portfolio.. Bang ON overconfidence .... got a big one on friday courtesy #ncyt.
Even though I have read Profit warnings guide from @Ed ,@Paul and stock team couple of years ago, thought it is worth refreshing and put a self note to me and share with others.
Stocko research is based on 245 profit warnings in small cap segment between 2013 and 2016.
Below picture summarises the entire journey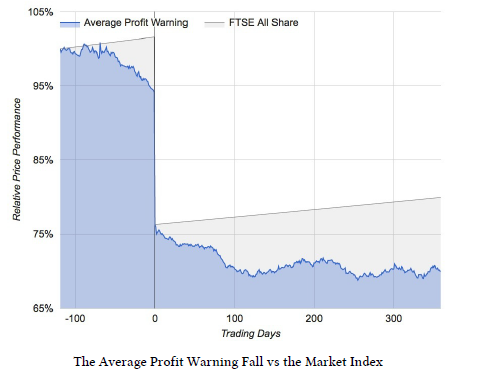 On an average, prices start falling by 6% in the 6 months before the warning.
Average price decline on the day of the profit warning was -19.2%.
Further decline followed for two to three months after the warning, possibly coinciding with further earnings news.
On average, no significant reversal in the price decline even after 12 months
Key takeaways from the research :
We cannot escape profit warnings. Only thing one can do is to prepare a plan for them.
Minimise profit warnings - own defensive sector, avoid cheapest shares by P/E or Yield, avoid under performing shares and shares with poor earnings forecast
When a profit warning strikes - consider selling (or selling short) immediately.
Only consider buying, or continuing to hold after a profit warning if the shares are of the highest quality - preferably a QualityRank greater than 75.
Traders should only consider placing an intraday trade during a profit warning if the shares have fallen by more than 30%. But beware the risk!
Investors should only consider buying after a profit warning when at least six months have passed, and preferably only during a bull market.
How did you guys handle the profit warnings in your portfolio? Did you follow a specific plan, pattern or still running with confidence ( or overconfidence)?
What am I doing with Novacyt Sa (LON:NCYT)?
I couldn't act on Friday due to constraints of getting approval and executing the trades as I work in financial services industry. This is always tricky if RNS comes mid-day.. By the time I got the approvals, it was too late and I decided to not to act in haste as I was not ready with a plan.. - contrary to the research.....
I am still confident(probably over) on Novacyt Sa

(LON:NCYT)

and hanging on to one point from research saying that recovery is possible for…

Unlock the rest of this article with a 14 day trial
Already have an account?
Login here