Provident Financial - Value from the flames.
Its not fashionable to like Provident Financial. After all what is does is definitely at the usurious end of the spectrum: lending on an unsecured basis to consumers with dubious or no credit history. For this service it charges a premium rate of interest often in excess of 50% PA. (although it doesnt tend to lend Wonga style at thousands of percent due to more recent regulations capping fees and rates of interest).

I have taken the opposite view in many respects to "Mr Market" and bought some shares at 660p on Tuesday. Where a number of people see blood, I see pound notes. I will attempt to explain why:

Provident Financial or "Provvies" as it is more widely known in financial circles has been around since 1880 and has 2.5m customers. It provides a service, short term unsecured loans to people with poor credit history, that banks DO NOT WANT to provide. I accept the rate it charges is very high, but given the number of customers who default or are delinquent, it needs to do this to earn a return on shareholder capital. Think about it. 2.5m customers. That's a lot of customers who presumably cant get money elsewhere. I dont want to turn this into a battle about ethics. If you dont like it, please dont invest.

Divisions
Provvies operates 3 divisions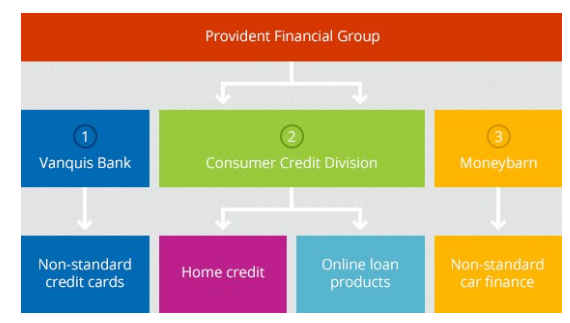 1. Vanquis Bank - provides credit cards to "non standard customers". 1.6m customers with credit limits of £250-£4000. This made PBT of £205m in 2016
2. Consumer Credit- This comprises "Provident", the doorstep lending business and "Satsuma" which is an online version. Combined this has 800k customers, loans range from £100 to £2000 and made PBT of £115m in 2016
3. Moneybarn - provides vehicle finance. 41k customers with loans ranging from £4k to £25k. Made PBT of £31m in 2016


Money Barn again is performing well and has doubled profits since its acquisition in 2014. I think this is a faster growing business and will probably see profits around £40-£45m by 2019. So £400m ?
The problem child - Consumer Credit
Recent regulatory changes have encouraged / forced the "Provident" business to move from a model where the agent (or "consumer experience manager" WTF?!) goes from being a part time employee to a full time employee. This migration has…

Finish reading with a 14 day trial
Already have an account?
Login here