Quality Dividend Growth Investing: Development of second quarter 2019
So my journey goes on and it's been half a year since I started my QDG-Portfolio. If you want to know more about my investment approach, you can look at the origin post. It can be found here: Dividend Growth Investing (DGI): Let's get it started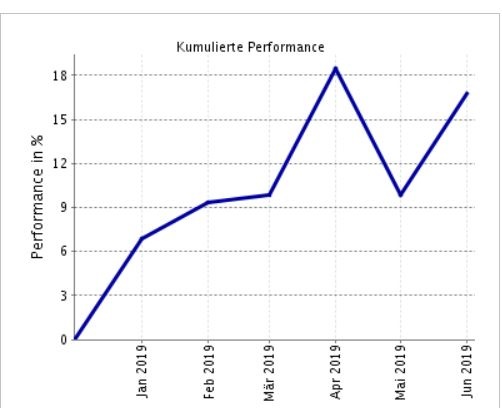 I suffered quite a bit in May as you can see. But I stayed the course and am up 16,66%, including the dividends I received so far. From April to June I received 217€ in dividends after tax. That's 50€ more than in the first quarter and mainly because I received the annual dividend from Loomis (LOOM B). They pay the dividends in one and not like the US-companies every quarter.

Also - as I announced - I bought some stocks from Fastenal (FAST) in the last quarter. And they paid me a small amount at the end of May. At the same time they did a stock split, so my entry course was adjusted and now I own twice the number of stocks I bought.

| | | |
| --- | --- | --- |
| | | |
| | | |
Fastenal is the only stock that's still in the red zone. But I am confident to see their numbers becoming green in the nearer future. Also my main goal is not the price gain but a regular income stream of steadily rising dividends. The average dividend yield from my portfolio so far is 2,75%. But my personal yield on cost is 3,14%.

I keep collecting my monthly savings rate to gradually acquire further good quality Dividend Growth shares. But probably in the third quarter I will just sit and wait. It is not easy to find a good stock that fits my criteria of fundamental key figures at the moment and also fits my asset allocation. I want to add another european company to my portfolio and it should not be in the financial sector. So I try to stay patient and wait for my chance.

Disclaimer/Disclosure: This is no investment advice. This post is just for entertainment and the exchange of experiences. I am long on all stocks mentioned above.


Unlock the rest of this Article in 15 seconds
Already have an account?
Login here