Rockrose Energy: is this share price just too cheap?
Investors have high hopes for Rockrose Energy (LON:RRE) - it was the single most popular pick in our Stock Picking Challenge 2020. Why are so many savvy retail investors predicting big things in 2020 from this North Sea oil producer and explorer?
The bull case is that Rockrose shares are cheap given recent acquisitions. A rapid roll-up of assets is not without execution risk, but so far Rockrose has proven to be an extremely lucrative investment for long-term shareholders.
It has been a pretty stratospheric ride so far: the share price has shot up from 51.5p to 2,107p in just four years. Meanwhile, the share count has risen from six million to 15 million shares in issue in order to fund acquisitions.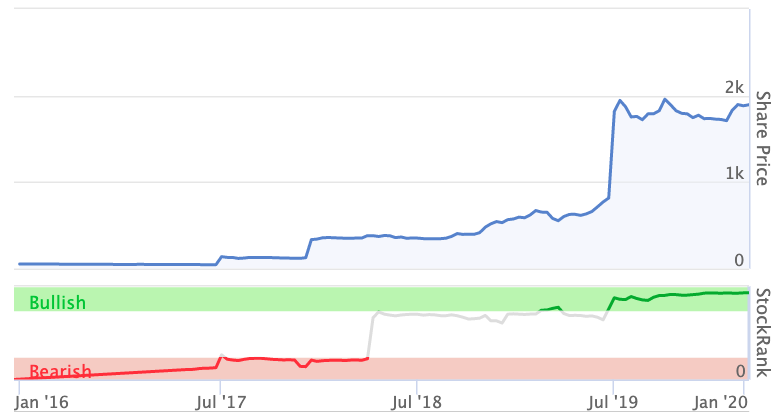 In 2014 a sudden crash in the oil price caused many overseas operators to evaluate their North Sea oil and gas portfolios. For some (particularly US and Japanese operators), it kickstarted a period of retrenchment. They left behind mature, profitable operating assets that were deemed to be non-core.
Andrew Austin, the executive chairman and founder and 27% owner of Rockrose Energy, saw an opportunity. A new vehicle could step into this void and roll up orphaned sites. In this manner, you might rapidly assemble a substantial portfolio of North Sea oil and gas assets.
Four years later, and that appears to be what is happening. The group has gone from a standing start with a market cap of £5m to more than half a billion dollars in assets and a market cap in excess of £260m. Here's a quick recap on how the group did it.
How to build a North Sea oil and gas producer
2015: incorporation
RockRose Energy is established as an acquisition vehicle to identify onshore and offshore production opportunities and infrastructure projects.
2016: listing
On 13 January 2016 Rockrose began trading on the London Stock Exchange, raising £4.4m before expenses at 50p per share. The team looked at more than 35 opportunities with a focus on "mature cash producing assets in politically stable geographies, particularly in the UK."
2017: Egerton, Sojitz and Idemitsu
The group agreed to acquire Egerton Energy Ventures for £1m in March, before raising £8m at 150p in July. A month later, Rockrose acquired Sojitz Energy for £2.5m. Later in the year, the group made its biggest…

Unlock the rest of this article with a 14 day trial
Already have an account?
Login here