SIF December review: Ahead of the market, but facing big losses (COST, SXS, MOTR)
Happy New Year! I hope you all enjoyed a good break over the festive period. Let's hope that 2019 will be kinder to our portfolios than 2018.
December capped a bad year for the SIF fund, but happily my rules-based portfolio still managed to finish ahead of the FTSE All-Share index by a modest 1.3%: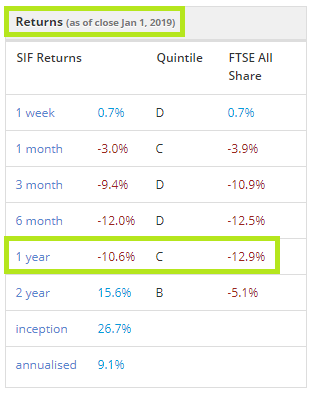 My view remains that a number of decent stocks have been oversold as investors have taken fright at a multitude of potential risks. These include the prospect of a chaotic no-deal Brexit, US-China trade war, and rising interest rates.
It remains to be seen whether these fears are fully justified. But the forward-looking nature of markets could mean that stock market sentiment improves while newspaper headlines remain full of doom.
Getting back to business
I'm not going to make any more predictions, but I will continue with my strategy of buying stocks which qualify for my Stock in Focus (SIF) Screen, and selling those which don't.
As a reminder for new readers, my SIF fund is a virtual fund I run through Stockopedia's Fantasy Funds system. In order to have skin in the game and make this more interesting, I also invest a portion of my own personal portfolio in all of the stocks I add to the SIF fund.
At the end of each month, I review stocks that have been in the folio for at least nine months to see if they still pass my screening rules. If they don't, they're sold.
This slightly belated review is for December 2018 and will include three stocks:
Used car supermarket Motorpoint (LON:MOTR)

Engineering and construction group Costain (LON:COST)

FTSE 250 instrumentation and control specialist Spectris (LON:SXS)
Motorpoint is the fund's oldest holding, having been purchased in December 2017. Costain and Spectris were purchased in March 2018 and have delivered some of my biggest losses to date:

(As at 2 January 2019)
Let's take a closer look.
My respect for this car supermarket business has increased during the time that I've owned the shares. It appears to be able to generate a very high return on capital employed (ROCE) without excessive use of debt.


Unlock this Article with a 14 day free trial
Already have an account?
Login here