SIF February review: Rio Tinto, Standard Life Aberdeen, RM & Redrow
Brexit is making headlines again this week, along with the 'The Beast From The East', a Siberian blast which appears to be bringing us another cold snap.

Appropriately enough, the stock market seems determined to ignore both the non-event of winter weather and the major but unknown outcome of Brexit. Instead, the major indices are making a steady recovery from the correction seen at the start of February, as this chart shows:
Several of the SIF portfolio holdings have benefited from this rebound. This includes those which are up for review this week, at the end of their nine-month holding period: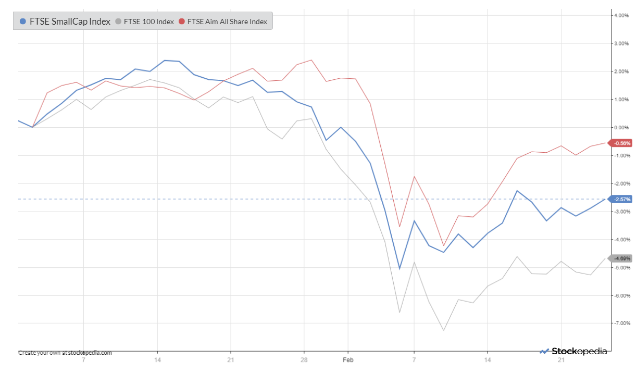 Here's how these stocks have fared so far during their time in the portfolio:

Three of these four stocks are showing profits from their time in the SIF, but only those which still qualify for my SIF screen will be allowed to remain in the portfolio.
Rio Tinto
FTSE 100 miner Rio Tinto has performed well during its time in the portfolio, rising by 35%. As I suggested at the time, the shares were cheap at under £30 in May 2017.
This month's full-year results confirmed that the business is firing on all cylinders. Underlying free cash flow rose by 64% to $9.5bn last year, providing support for a record dividend of $5.2bn and share buybacks totalling $3bn. (There was also an additional $2.5bn buyback executed with the proceeds from the sale of the group's main coal assets).
Net debt has fallen to $3.9bn, representing 0.2x underlying EBITDA. So borrowing is no longer a concern. Indeed, the group clearly has the firepower to start expanding again.
The shares also offer an attractive rolling forecast yield of 4.9%, and the technical picture also looks supportive to me: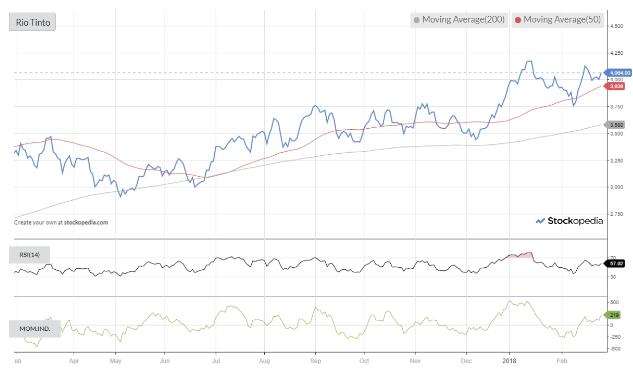 What could go wrong? I think it's worth asking if profitability is already peaking. Rio generated an operating margin of 35% last year. The group's earnings yield, at 13%, is now higher than when I added the stock to the portfolio. How much higher can these figures go?

A return to expansion could put pressure on…

Unlock the rest of this Article in 15 seconds
Already have an account?
Login here