SIF Folio: Lookers profit warning + is this the right time to buy H&T?
When I added car dealership group Lookers to the SIF fund in March, I knew that it carried a fair amount of cyclical risk. What I didn't expect was that the firm would also become the subject of a FCA investigation into its regulated activities (selling financial products).

When news of the FCA investigation was released at the end of June, I decided not to sell the shares as there hadn't been an actual profit warning. As if to punish me for my complacency, the firm then issued a profit warning less than three weeks later, last Friday.
What's gone wrong? In May, Lookers reported positive trading for the first quarter of the year. I found this reassuring following my purchase in March. However, this positive momentum appears to have reversed during the second quarter.
According to last week's profit warning, new car registrations fell by 4.6% during the second quarter. Lookers also said weaker demand for used cars caused a significant increase in margin pressure. This suggests to me that gross profit and sales may have fallen in the used division.
Against this backdrop, the group says it has continued to experience cost inflation.
As a result, underlying pre-tax profit for the first half of the year is now expected to be c.£32m, down by 25% from £43m last year.
I give full marks for the company for providing clear guidance. But this is a big fall in profit. When combined with the risks posed by the FCA investigation, this warning has resulted in a big cut to broker forecasts: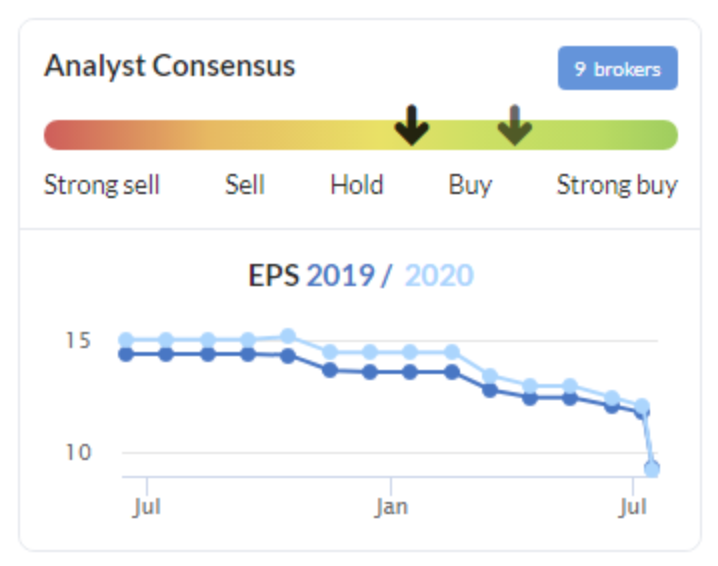 Director buying: I see that the CEO and COO bought £75k and £78k of shares in the market on Monday. To put this in context, they collected total remuneration of £633k and £484k last year.

Guernsey Investments Limited, which appears to represent the Brammall family, has also added £1.6m (1.1%) to its holding, taking its total interest to 17.38%. Brammall is Lookers largest shareholder, as a legacy of the 2008 deal which saw the company buy the Brammall business.
My decision: I'm generally sceptical about coordinated director buying. But I think the continued support from the Brammall family is reassuring. If I intended to hold the stock indefinitely, I would probably average down at…

Unlock the rest of this article with a 14 day trial
Already have an account?
Login here