SIF June review: Redrow + I revisit Alliance Pharma after 80% gain
It's the end of June, so it's time for my regular monthly review of stocks that have been in SIF for nine months or longer. There are only two stocks to consider this month:

Alliance Pharma - this specialist pharmaceutical group has delivered a stonking 80% gain since last September. But do the shares still pass all of my screening tests?

Redrow - the portfolio's oldest position at 15 months. My intuition suggests selling housing stocks, but my screening rules may say otherwise.
Alliance Pharma
Specialist pharmaceutical group Alliance Pharma has delivered the SIF portfolio's second-best gain to date.
This £480m AIM-listed group specialises in buying up niche medicines with well-established markets. It then sells them through its distribution network, reaping cost savings and other benefits of scale. It doesn't develop new products, so the speculative risks of investing in most small pharma stocks don't apply here.
The latest such deal was last week's acquisition of anti-dandruff shampoo Nizoral for £60m from a subsidiary of Johnson & Johnson. The deal will give Alliance the Asia-Pacific rights to this product which had sales of £60m last year. The firm says that the over-the-counter medicated shampoo market in this region is worth £363m per year, so there's room for growth.
This acquisition was funded with a £34m placing and £27.9m of new debt. This will take the group's net debt to EBITDA ratio back up to 2.5. That's a level that's higher than I'm comfortable with, but borrowings are expected to fall steadily, as they've done after previous deals.
Up 81% in nine months
Since I added Alliance Pharma to the SIF fund, the shares have risen by 81% plus dividends (at the time of writing). But the picture has changed considerably over that period. It's time to review the stock and see if it still qualifies for my screen.
What's changed?
In September 2017, Alliance had a StockRank of 61, a Balanced RiskRating and a StockRank Style of Neutral.

The shares looked very affordable for a for a dividend-growth stock: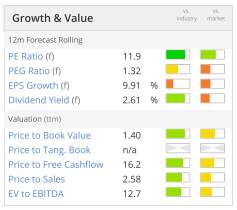 September 2017
Today the picture is rather different. Investors have embraced the group's cash-generative growth and bid the stock to a far more demanding valuation. This…

Unlock this Article with a 14 day free trial
Already have an account?
Login here