SIF March review: Taptica International, Harvey Nash, IAG and Redrow
We're getting close to the end of the tax year, and to the SIF portfolio's second year of trading. To mark this anniversary I'll be considering whether to make any changes to the screening rules I use to select stocks.

Any changes I do make are likely to be small and incremental. The portfolio has outperformed the benchmark FTSE All-Share index by 20% over the last year, so I'm fairly happy with the way it's performed: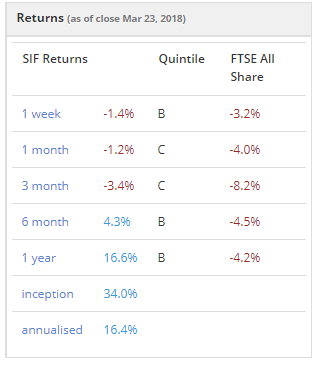 Profit in uncertain markets
As Graham Neary discussed on Friday, the FTSE 100 has fallen below 7,000 for the first time in 15 months. A deeper correction seems possible at some point.
Like many portfolios, SIF hasn't yet been tested in a real bear market. I have no idea how it will perform in more difficult conditions, but I do have a view on what I hope will happen.
The portfolio's focus on affordable growth within a limited holding period means that momentum is also a key requirement for each stock pick. This is likely to be in short supply in a real bear market. So my hope is that in really bad conditions, the portfolio would move progressively into cash as fewer stocks would qualify for my screen.
I've seen some evidence to suggest that this could happen, but it's not conclusive. One aim of my review this year will be to consider whether I need to tweak the screening criteria to move closer to this goal.
This week's stocks
That's all to come next month. This week it's time to review the portfolio holdings that are at least nine months old. There are four contenders:
Here's how they've performed so far:

Taptica International
Internet marketing specialist Taptica International has been a strong performer for the portfolio, although the shares are now well below the highs seen over the last nine months.
In January the company said that better-than-expected progress integrating the Tremor Video DSP acquisition meant that 2017 earnings would be ahead of expectations.
These results were released on Monday, giving me chance to take a quick look and to decide whether…

Finish reading with a 14 day trial
Already have an account?
Login here