SIF November review: A 37% gain from Plus500 + should I keep NWF & Motorpoint?
We still don't know whether Theresa May's Brexit deal will be supported by MPs, but I have a strong feeling that a cliff-edge Brexit is increasingly unlikely. I feel this could be good news for our stock portfolios.

Markets hate uncertainty and according to this article in the FT (paywall), $1tn $20bn (the article has been corrected) has been withdrawn from UK equity funds since the referendum in 2016. Data provider EPFR says that money has been pulled from UK equity funds "every week since the UK voted to leave the EU".
If this uncertainty can be resolved, then perhaps 2019 will be a better year for stock market returns. In any case, I'm pleased to see that after a difficult couple of months, the SIF folio has stabilised and remains ahead of the wider market: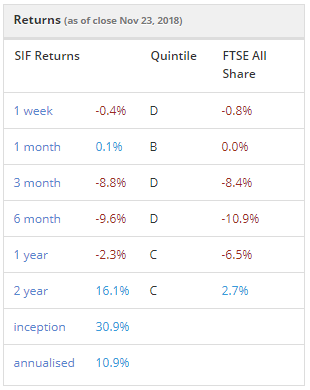 Three stocks up for review
It's the end of another month, so it's time to review stocks that have been in SIF for nine months or more. Three companies are in the spotlight this week:
Used car supermarket Motorpoint (LON:MOTR)

Spread-betting and CFD firm Plus500 (LON:PLUS)

Farm feed, fuel and distribution group NWF (LON:NWF)
Here's how each stock has performed so far during its time in the portfolio (excluding dividends):

Motorpoint (LON:MOTR)
This used car supermarket group has become the folio's longest-serving stock. I've become a reluctant fan of this business, which generates outstandingly high returns on capital: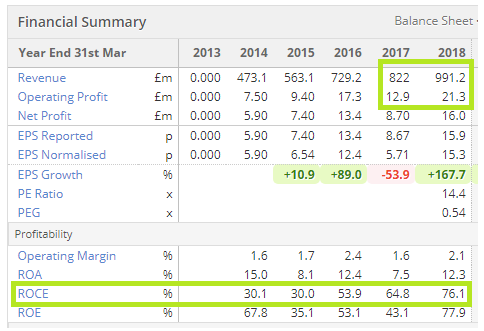 Having said that, I'm not blind to the high level of operating leverage on display here. Last year, a 20% increase in sales resulted in a 65% increase in operating profit.
Although this seems to be an exceptional result, I guess such leveraged gains are to be expected when most used car stock is purchased with a credit facility. The group's main fixed costs are its sites and staff, neither of which changes significantly when sales rise.
Of course, the downside of high operating leverage is that it works both ways. If sales fall or consumer credit availability tightens, profit could fall fast.
My decision: I've run Motorpoint through my screening tests to see whether I can keep the shares for another month. On paper, Motorpoint fails to qualify for my screen because its earnings yield (EBIT/EV)…

Unlock this Article with a 14 day free trial
Already have an account?
Login here