SIF October review: Tesco boss bids farewell. Should I follow?
The clocks have gone back and the countdown to Christmas - a key season for UK retailers - has started. The SIF folio's exposure to retail is through two businesses, Tesco and Bloomsbury Publishing.

Both positions are showing a profit, but it's Tesco that concerns me today. The UK's largest supermarket has been in the SIF fund for nine months now, which means it's due a review.
In my original write-up on Tesco in January, I said that I rated the partnership of chairman John Allan and CEO 'Drastic' Dave Lewis very highly. I said that "with no sign of either man departing", I was comfortable with the outlook and happy to buy Tesco stock.
That situation has changed. Mr Allan and Mr Lewis remain in post, but Drastic Dave has given notice that he plans to leave next year, saying that the job is done.
In some ways I'm not surprised. Mr Lewis was hired as a turnaround boss. I think he's done a great job. Perhaps he's not interested in the year-on-year grind of maintaining incremental growth while fending off the German discounters. I don't know.
For long-term investors in Tesco, I think that news of Mr Lewis's departure is largely irrelevant. His replacement, Ken Murphy, appears well qualified, with a long history at Boots owner Walgreens Boots Alliance. 
However, given the short-term trading focus of the SIF fund, I it might be a good time to review the current valuation and outlook for Tesco stock.
Tesco (LON:TSCO)
I purchased my stock in January, when the Tesco share price was rebounding from its December slump. I'd like to have been a week earlier, but my timing has worked out pretty well: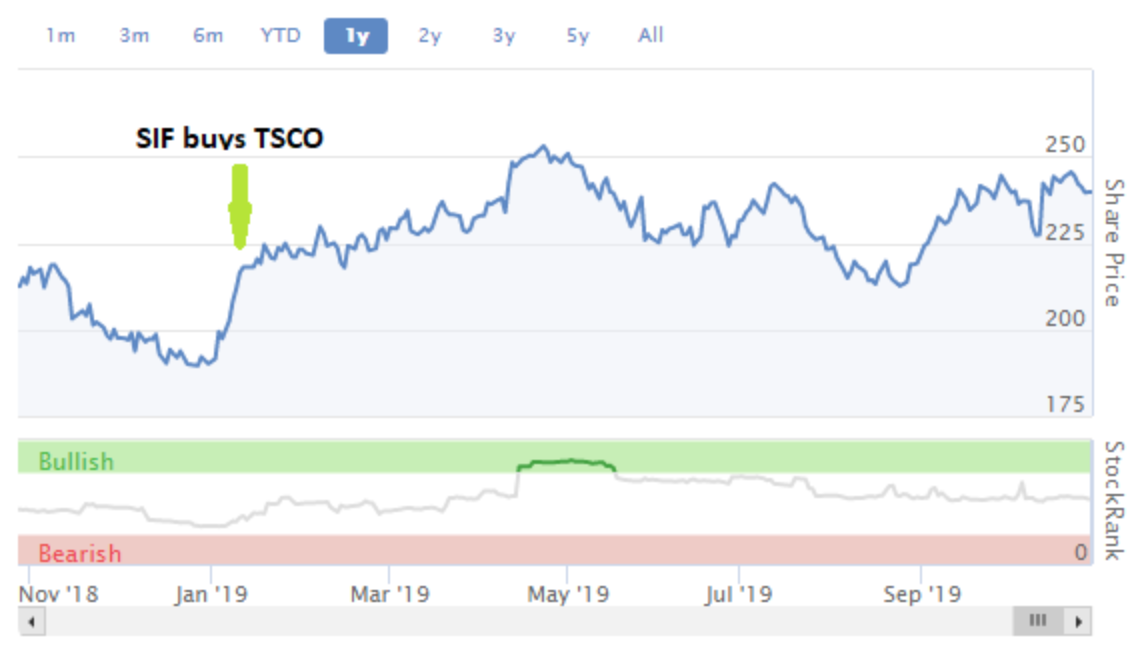 Here's how the SIF fund's Tesco holding has performed to date:


Add in a couple of dividends, and the total return in just over nine months is about 13%, equivalent to an annualised total return of about 17%. I think that's acceptable.

The real question is what I should do now. Let's take a closer look at the firm's financial performance and outlook to find out more.
Trading highlights
One of CEO Mr Lewis's key performance targets was to rebuild…

Unlock this Article with a 14 day free trial
Already have an account?
Login here