SIF Portfolio: A new twist on diversification
Ed Croft's 2017 NAPS feature reminded me of the adage that diversification is the only free lunch in investing.
The NAPS portfolio is made up of 20 stocks, with two taken from each of the ten top level economic sectors. With a few exceptions, the stocks selected are simply the stocks with the highest StockRanks in each sector.
The NAPS portfolio is more strictly rules-based than my SIF Portfolio, but there are some similarities. One of the biggest lessons I've taken away from the NAPS portfolio's outstanding progress is the benefit of diversification.
I hope Ed won't mind if I borrow the graph he used in the 2017 NAPS article. This shows how the equally diversified NAPS portfolio has beaten an undiversified portfolio of the 20 top-ranked stocks by about 15% in the two years since the portfolio was created: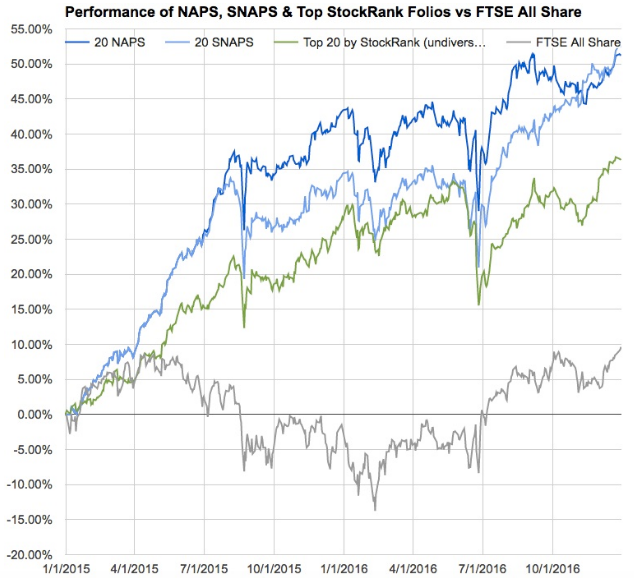 The blue lines represent diversified NAPS/SNAPS portfolios, while the green line represents the top 20 stocks by StockRank, without any diversification.

One of my biggest concerns about the SIF portfolio has been its ongoing failure to reach my target of a broadly equal mix of cyclical and defensive stocks. The reasons for this are simple enough. For the last couple of years, we've been in a market where good quality defensive stocks have been highly valued, relative to their earnings growth. This has prevented them qualifying for my screen.
However, I have turned down a number of opportunities to add apparently successful defensive stocks to my portfolio. Most of these have been UK-listed Russian companies, which I've excluded on the grounds that I don't understand the rules in Russia.
In short, I've put my anti-Russia (investment) bias ahead of my diversification requirements. I'm not sure if this was wise, so for 2017 I'm going to flip this rule on its head. If Russian stocks qualify for my screen and can help improve the diversification of the SIF Portfolio, then they'll be in.
This may have some consequences, the biggest of which is that it will strip out much of the subjective judgement I apply to portfolio stocks. Like most UK investors, I really don't know much about these companies, or the wider market context in which they operate.
For example, how similar to the UK are the regulatory environments for utilities and banks in Russia? How…

Unlock the rest of this Article in 15 seconds
Already have an account?
Login here