SIF Portfolio: Cyclical turn could make insurer Jardine Lloyd Thompson too cheap to ignore
Last week I wrote about the restricted choice of stocks on offer in the Stock in Focus screen. This week the choice has shrunk even further.

Of the 16 stocks which qualify for my screen at the time of writing on Monday, two are Russian and six are already in the SIF portfolio. A further five are sector duplicates I won't buy for diversification reasons. And one (Hogg Robinson) has received a takeover bid, so is ruled out.
That leaves just two stocks:
The portfolio rules say that the stock with the highest StockRank should be considered next. So Jardine Lloyd Thompson is the stock I'll be considering this week.
Jardine Lloyd Triple-bagger
FTSE 250 financial stock Jardine Lloyd Thompson may not be a company you're familiar with. But savvy investors have snaffled a 50% gain since February 2016. Longer term investors have tripled their money over the last 10 years.
The group's business has two divisions. The larger one is known as Risk & Insurance and provides specialty insurance, reinsurance and broking services. This includes providing cover for airliners, energy industry assets, shipping cargo, buildings and much more.
The smaller half of JLT's business deals with providing outsourced Employee Benefits. This includes pension administration, healthcare and life insurance and other services with a finance tilt.
The group has a market cap of £2.7bn and trades in the FTSE 250. It was formed when Jardine Insurance Brokers merged with Lloyds Thompson Group in 1997. But as the name suggests, Jardine Insurance was originally spun out Hong Kong-based trading company Jardine Matheson, whose history can be traced back to 1832.
The Stockopedia graphic shows that Jardine Lloyd Thompson's free float is just 54.8%.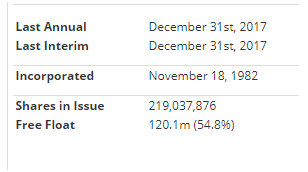 The reason for this is that Jardine Matheson holds a 40% stake in the firm. This probably means that a takeover bid is unlikely here, but I don't see that as a big problem.

The company comments that Jardine Matheson's "reputation and local knowledge are of great value" when dealing in Asia. Having a dominant shareholder doesn't seem to have held back growth or shareholder returns, either: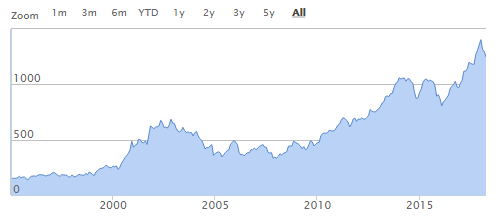 Is…

Finish reading with a 14 day trial
Already have an account?
Login here