SIF Portfolio: Norcros looks tempting following recent changes
The outlook for consumer spending and the property market remain wildly unpredictable, if January's rash of trading updates is anything to go on.

Data from the Office for National Statistics last week showed that retail sales growth by volume slowed to under 2% last year, from more than 4% in both 2015 and 2016. Post-Christmas updates from the supermarkets were fairly solid, but trading statements from other retailers have been more mixed.
Niche firms Carpetright and Bonmarche Holdings (a portfolio stock) have both slumped on falling sales. Graham Neary covered both of these on Friday. At the big cap end of the market, Marks & Spencer did relatively poorly, but Next and Dixons Carphone both did quite well. Budget retailers have also performed strongly.
Although we've had a big profit warning from estate agency group Countrywide, we've not yet heard from B&Q owner Kingfisher. Nor have we had updated from builders merchants such as Travis Perkins. That's a shame, because these are probably the nearest proxy to today's stock, shower and bathroom fitting specialist Norcros.
New-look Norcros returns
Perennial value stock Norcros has often cropped up in my screen, and makes frequent appearances in the SCVR.
However, it's reached the top spot in my screening results this week, forcing me to take a closer look. The last year has brought some changes I'm keen on, and one or two that I'm not. So let's take a closer look.
Still good value
Norcros has always appeared to be cheap, and that hasn't changed. A ValueRank of 86 and a swathe of green bars highlight the firm's value credentials: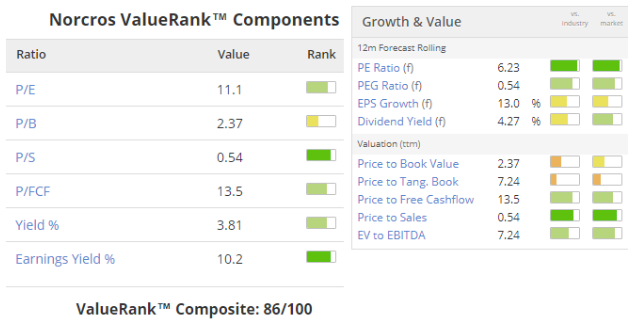 The earnings yield (EBIT/EV) of 10% is well above my screening threshold of 8%. This suggests Norcros could be attractively priced, relative to its capacity to generate profits.

Meanwhile, the trailing price/free cash flow ratio of 13.5 implies that the dividend yield of 3.8% is covered twice by free cash flow. (Inverting the P/FCF gives a free cash flow yield of 7.7%).
However, the £60m acquisition of Irish shower enclosures group Merlyn is big enough to potentially change the picture. So I think it's worth taking a closer look to see if the price paid for this business…

Finish reading with a 14 day trial
Already have an account?
Login here