SIF portfolio October review: AIR, FLO, HYDR and TCS
It's a big week this week. No fewer than four stocks are due for review and potential eviction from the SIF portfolio:

A quick look at the Fantasy Fund page for the SIF portfolio suggests that the performance of these stocks has been pretty good, with one exception:

Let's take a closer look at what's been happening.

Air Partner
I covered Air Partner's performance during its time in the portfolio in last month's review, so won't dwell on this one today.
This stock reached its nine-month birthday last month, but still qualified for the Stock in Focus screen, so remained in the portfolio for another month.
I'm pleased to report that Air Partner still passes all of my screening tests, so will stay in the portfolio during November. (Although the spread shown in Stockopedia is sometimes higher than my 4% maximum, live quotes from my broker suggest the true spread is much lower.)
Verdict: Hold
Total return to date: +33.4pc
Flowtech Fluidpower
This firm is a distributor of parts and products needed for hydraulic and pneumatic equipment. Customers include both plant operators and industrial customers, such as factories.
The shares have been on a tear recently, gaining 30% since the start of September. I'm not entirely sure why. Although the group's H1 results on 12 September were strong, they seem to have been broadly in-line with expectations.
Growth was rapid during the first half, as organic expansion continued and acquisitions kicked in. Revenue rose by 24.8% to £34.2m, while underlying operating profit profit rose by 11% to £4.5m.
However, statutory operating profit only increased by 3.1% to £3.39m, due to a number of "separately disclosed items":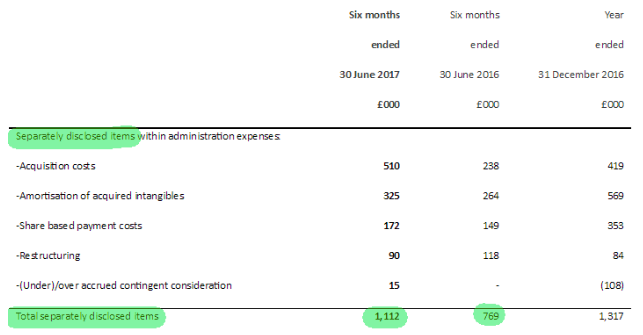 Almost all of these costs relate to acquisitions or remuneration. Together they reduced the group's operating margin from 12% in 1H16 to 10% during 1H17.

Given Flowtech's policy of acquisition-led growth, I think it makes sense for investors to include these costs in their assessment of the group's profitability. As you can see, they aren't particularly exceptional, having occurred at similar levels last year.
Overall, I'm still quite positive about this business. But margins…

Unlock this Article with a 14 day free trial
Already have an account?
Login here