SIF Portfolio September review: Central Asia Metals and Air Partner
In April, I decided to extend the portfolio's minimum holding period from six to nine months. I did this gradually to avoid too much disruption, but we've now reached 'the new normal'. This week I'm looking at the portfolio's nine-month old stocks. From October onwards, I'll deliver monthly reviews once more.The two stocks potentially up for eviction this week are:
A quick look at the SIF portfolio fantasy fund suggests performance has been a mixed bag.
Air Partner is up by 25%. I'll be taking a look at recent performance, and finding out whether this stock stock qualifies for an extended stay in the portfolio.
Central Asia Metals has only just returned from a period of suspension ahead of a big reverse takeover deal. In addition to reviewing CAML's recent performance, I'm going to take a look at this deal to see how shareholders are likely to be affected.
Air Partner
Aviation services group Air Partner operates in sectors include specialist air charter, travel management aircraft broking and safety consultancy.
The group's 2016/17 results showed a significant improvement in margins, lifting operating profit from £3.2m to £4.4m despite a 15% fall in revenue: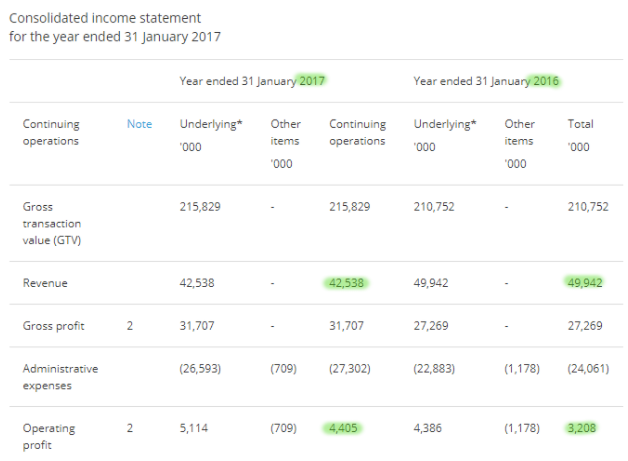 Highlights of last year included a strong performance from the group's Consulting & Training business, which contributed 10% of underlying pre-tax profit, having operated at a loss during the prior year. The group's charter business also performed well.

Cash generation remained strong. After stripping out the advanced payments received from JetCard private charter customers, the group ended the year with net cash of £1m.
As you can see from the Stockopedia figures, Air Partner's return on capital employed rose to a praiseworthy 24% last year, while operating margin reached double figures for the first time:

Further strong growth is expected this year. The group's H1 trading statement in August confirmed guidance for underlying H1 pre-tax profit of "not less than £4m", compared to £3m for the same period last year.

This is consistent with analysts' forecasts for full-year earnings growth of around 35%:

Hold on for more?
Overall, it seems an attractive picture. The StockRank remains high, at 86, and the forecast valuation looks reasonable, with a P/E…

Unlock the rest of this Article in 15 seconds
Already have an account?
Login here