SIF Portfolio: Plus500 is riding high on cryptocurrency profits - what's next?
Is the cryptocurrency boom turning to bust? The chart below showing the value of Bitcoin since June last year suggests that it might be.

On the other hand, investors who have HODLed have seen the value of their coins rise by more than 85% since 5 February. Rivals Litecoin and Ether have also staged strong comebacks.

This rapid rebound means that anyone who bought Bitcoin as recently as October has already doubled their money. So the boom could still have further to go before it peters out, as I believe it will.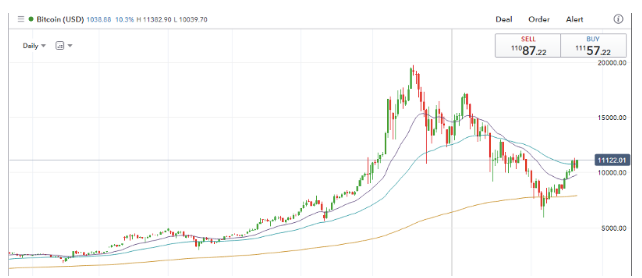 Source: IG.com

Stock market crypto-winners
Which stocks have profited from the cryptocurrency boom? Leaving aside the rash of dubious AIM firms that have climbed on the blockchain bandwagon to boost their share prices, CFD firms have been among the big winners.
One of the most notable of these is Israel-based Plus500. New customer numbers rose by 136% in 2017, helping to lift revenue by 33% and earnings per share by 72%: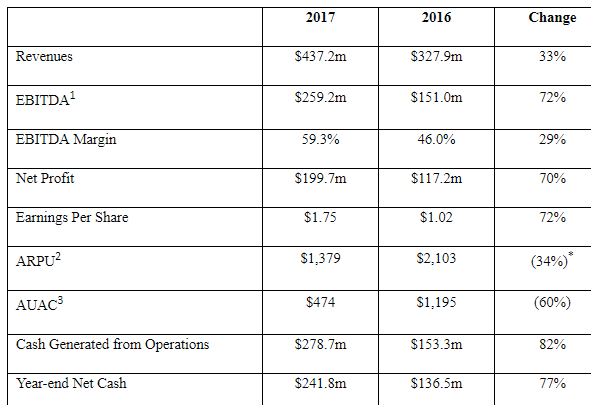 Source: Plus500 Ltd 2017 preliminary results

It's worth noting how profits rose twice as quickly as revenue. Much of the improvement in profit margins appears to have been driven by the fall in average user acquisition cost (AUAC), which dropped by 60% from $1,195 to $474.
I'd hazard a guess that much of this reduction was due retail customers seeking out the firm in order to start trading bitcoin and other cryptocurrencies. Although Plus500 says that "less than 15%" of revenue came from cryptocurrency trading last year, I suspect the resulting contribution to profit was much greater than this.
Should I buy this stock?
Plus500 was one of Ed Croft's NAPS choices for 2018. For similar reasons, this marmite stock has now qualified for my Stock in Focus screen.
I have to admit that the thought of buying this stock makes me uncomfortable. Personally, I can't see how a company which grows so quickly and generates so much surplus cash can be a good quality, sustainable business.
I remember when the firm's founders were happy to sell at £4 per share. Today the price is £12, despite the threat of regulatory restrictions on leverage.
Plus500's performance has so far defied expectations, perhaps in part due to a good…

Unlock the rest of this Article in 15 seconds
Already have an account?
Login here