SIF Portfolio: Spectris measures up nicely + 3 new foreign stocks
The Stockopedia investment philosophy is all about letting the numbers talk. History suggests that this is one of the most effective ways to invest, but it's still a tough sell for many human investors. As thinking, emotional beings, we're hard-wired to enjoy a good story.

Luckily, I believe this week's stock has a good story and a tempting set of numbers. FTSE 250 instrumentation and control firm Spectris exists to help other companies make more money, more reliably. This group's wide range of products all have one goal - improving efficiency and productivity.
By investing in Spectris kit, companies can improve the quality and reliability of their products and services and perhaps make them cheaper. Given the constant need for industrial businesses to manage cost, quality and automation, I think this market should continue to expand.
A strong year
Recent performance has certainly been encouraging. Sales climbed 13% to £1,526.6m last year, while adjusted earnings rose 14% to 145.1p per share, beating expectations. Improved guidance on cost cutting earned the stock a boost from the broker community and the StockRank has risen by 41 points to 95 over the last month.

These much-improved figures have also resulted in Spectris qualifying for my screen since its 2017 results were published in February. Although the portfolio does contain some other industrial stocks, there's nothing of this kind, leaving the door open for Spectris to join the SIF portfolio.

Valued for growth?
Value is by far the firm's weakest suite, with a score of just 44/100: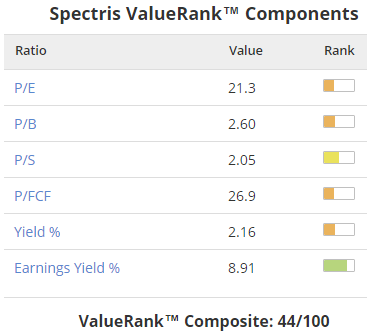 (You can see these breakdowns by going to the sector page and clicking on the ranks)

But even so, there are several things I like about these figures.
P/E versus P/FCF: Spectris's trailing P/E of 21.3 is quite close to its P/FCF of 26.9. This tells us that free cash flow per share is similar to earnings per share, a good sign of earnings quality.
Earnings yield: The only splash of green in the ValueRank breakdown is the earnings yield. This is one of my favourite metrics as it combines profitability and valuation. By comparing EBIT to enterprise value, a potential buyer gets an idea of how much profit the business generates, relative to its overall valuation. For a business owner, it's similar to…

Finish reading with a 14 day trial
Already have an account?
Login here