SIF September review: Bonmarché, Motorpoint and a bid for Jardine Lloyd Thompson
Last week came to a profitable end for the SIF folio, when specialist insurance broker Jardine Lloyds Thompson received a takeover bid from US heavyweight Marsh & Mclennan. This week I'll take a look at this news and explain what I'm going to do next.

As it's the end of the month, I'll also review any stocks which have been in the folio for at least nine months. Checking back through my trading records, I can see that two stocks were added in December 2017, so must be considered for eviction this month:
Motorpoint: I've become something of a reluctant convert to the attractions of this business. The stock's performance has been good during its time in the portfolio, but does it still pass all of my screening tests?

Bonmarché Holdings: This small-cap womenswear retailer has the credentials I tend to look for in value investments. Low valuation, strong balance sheet and a high yield. Performance so far has been promising, but I think there's more to come.
Here's a snapshot of how these holdings have performed so far. Both positions are in profit and have also paid dividends (not shown here). I've also included Jardine Lloyd Thompson in this screen grab so we can see the effect of last week's bid on the SIF holding:

Bonmarché Holdings
When I added Bonmarché Holdings to the SIF fund in December 2017, I was particularly keen on the stock's value credentials. This is something Graham and Paul have also commented on in their coverage.
I think it's worth revisiting this and seeing how the situation has evolved since then: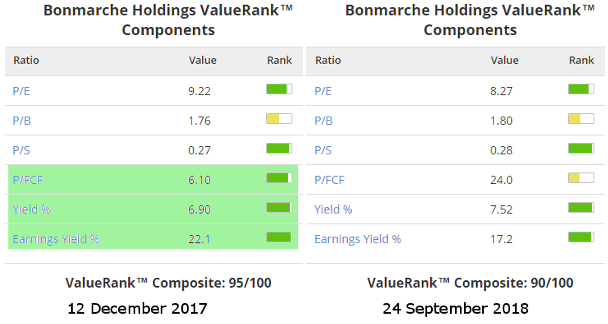 Most of these value ratios remain similar to when I bought the stock. They certainly still look attractive to me, when combined with a StockRank of 96.

The only exception is the shares' price/free cash flow ratio. A sharp increase from 6.1 to 24 suggests that cash flow has markedly worsened. However, I don't think this situation is as bad as these numbers suggest.
Last year, H1 free cash flow was boosted by a £1.3m reduction in inventories and a £2m increase in trade creditors (payables), combined with a big increase in half-year profit:

Source:…

Unlock this Article with a 14 day free trial
Already have an account?
Login here