SIF Portfolio: Bonmarché Holdings could be a good look for 2018
My personal share portfolio is divided into two parts. Since earlier this year, one of these parts has loosely mirrored the SIF portfolio. The other part of my portfolio is focused more on value and special situations.
So I was interested to see a stock I'd considered for my value portfolio appear in the SIF screen this week. Womenswear retailer Bonmarché Holdings specialises in "mature" customers at the affordable end of the market. It's a stock that's appeared in my own value screens more than once, since running into trouble at the start of 2016.
This company also been covered comprehensively in the small cap value report by sector expert Paul Scott and most recently by Graham Neary.
Like Graham, I'm attracted to the cash-rich balance sheet and the high earnings yield (EBIT/EV) that has resulted from the group's recovering performance.
Although Bonmarché shares have risen by around 33% from their mid-year lows of c.75p, the stock still boasts a low trailing P/E of 9.2 and a rolling forecast P/E of 7.1. One final temptation is the dividend yield of 7%, which has been maintained and looks increasingly well covered to me.
Another retailer?
You may remember that I added used car dealer Motorpoint to the SIF portfolio last week. Like this firm, Bonmarché is a cyclical retailer and could suffer from falling margins in a recession. So why am I considering it?
There are two reasons. The first is that Bonmarché's products benefit from a small ticket size, belong in a different sector, and are aimed (I suspect) at a different customer demographic. In my view these factors should help to reduce the correlation between the performance of the two firms.
The second reason is that this isn't a growth business where trading is booming as at Motorpoint. Bonmarché is a turnaround situation where new management is repairing and modernising the business.
Consensus forecasts for 2018/19 suggest that next year's profits will still be lower than those reported in 2015 and 2016. So the current valuation doesn't appear to depend on a bumper performance, unlike at Motorpoint.
With all of this in mind, let's take a closer look at at the numbers behind this £51.8m retailer with a StockRank of 98.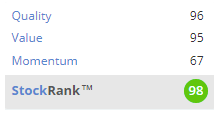 Unfashionably good value
Bonmarché isn't the only UK…

Finish reading with a 14 day trial
Already have an account?
Login here