Small Cap Value Report (11 Jan 2017 - Part 2) - FOXT, MCB, SGM
Hi everyone,
I'm back after a busy few days in London.
This report will cover Foxtons (LON:FOXT), McBride (LON:MCB) and Sigma Capital (LON:SGM).
Today's Part 1 by Paul is here, where he is covering Shoe Zone (LON:SHOE) and Joules (LON:JOUL).
---
Foxtons (LON:FOXT)

Share price: 95p (-4%)
No. shares: 275.1m
Market cap: £261m

Trading Update (for the year ended 31 December 2016)
Remarkably weak against comparatives:
Total group revenue for the year was circa £133m (2015: £150m), with revenue for the quarter ended 31 December 2016 totalling circa £26m (2015: £35m).

As might be expected, the more cyclical, sales-driven revenue stream is responsible for the weakness, not lettings:
The reduction in Group revenue for the year reflects the significant fall in sales volumes immediately following the first quarter of 2016. In the final quarter of 2016, sales revenues were circa £12m (2015: £20m) as volumes remained subdued. Lettings revenues in Q4 were circa £13m (2015: £13m) and have remained more resilient, benefitting from our high levels of renewals despite lower levels of new tenant activity and some downward pressure on rents arising from increased stock availability.

The outlook statement for 2017 is quite bland, saying that at the current rate of sales activity, "it is likely that 2017 volumes will be below those in 2016". Indeed!
From the previous trading update, I note that Q3 sales revenues were down 34% on the previous year, whereas Q4 sales revenues are down 40%. So perhaps full-year 2017 sales revenues might end up c. 40% down on 2015, unless something changes?
The previous update remarked that the company remained "highly cash generative with no debt". Today's update changes the focus a little bit, mentioning EBITDA margin instead of cash generation. Although it again emphasises that the company remains debt-free.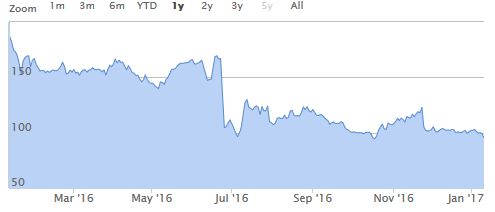 My opinion: This is a great stock for a pub debate, if you're interested in the London property market (which quite a few people are, unsurprisingly!).
Something which I still find rather unsettling is how the company spent over £28 million on dividends and buybacks in H1 (more than 10% of the current market cap), just as…

Unlock this Article with a 14 day free trial
Already have an account?
Login here