Small Cap Value Report (19 May 2017 - Part 2) - JE., JPR, FUTR, SAFE
Good morning,

For Paul's report today covering Revolution Bars (LON:RBG) and £G4M, click here.
For yesterday's report, click here. Yesterday's report includes all of the following:
And now for the contents of this report:

---
Share price: 611p (+3.3%)
No. shares: 679m
Market cap: £4,150m
JustEat/Hungryhouse merger referred for in-depth investigation
I could talk at considerable length about the economic reasoning behind this, but in straight investment terms this RNS confirms that Just Eat shareholders will probably have to wait for several more months for this investigation to conclude.
The Competition and Markets Authority (CMA) has found that Just Eat and Hungryhouse "are close competitors because of the similariy of their service and their broad geographical coverage".
Apparently, Just Eat has not offered ways of addressing the CMA's concerns (I wonder if it made an attempt to do so, or if it decided there was no point?), and so a CMA panel will have until November to reach a decision.
As investors, we benefit by finding companies which have a long-term competitive advantage. One of the ways of addressing competition in the short-term is to merge. It doesn't prevent new entrants from appearing at a later stage, but it can shore up the competitive position for the time being. And takeover deals can represent a win for the owners of the target companies, too, who are happy to cash out.

So it's frustrating that this deal is being delayed. I'm continuing to sit on the sidelines, but would love to see a clear buying opportunity open up in these shares.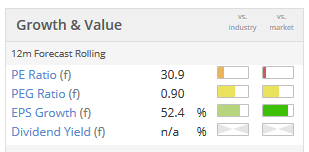 ---
Share price: 15.625p (+6%)
No. shares: 106m
Market cap: £16.5m
Trading for the full year (to December 2017) is still expected to be in line with expectations.
And these numbers cover the period…

Unlock the rest of this article with a 14 day trial
Already have an account?
Login here