Small Cap Value Report (Mon 8 Jan 2018) - HAT, SYS1, AVG, MTC, CRW, TST
Good morning!

Lots of trading updates today, so I will prioritise the companies I'm familiar with and which are most heavily requested in the comments.
I'm planning to start with:
Regards,
Graham
---
(Please note that I own shares in H&T)

Share price: 338p (+3.5%)
No. of shares: 37.4 million
Market cap: £126 million
Another positive update from this pawnbroking group which I have held in my portfolio since 2013.

Profit before tax for the full year will be ahead of current market expectations.
The Group has delivered another good performance in its lending operations.  The pledge book increased 11.6% to £46.1m (31 December 2016: £41.3m) as a result of the higher gold price, the concession format and an increase in loans on quality watches.  The Personal Loans book has increased by 94.7% to £18.3m (31 December 2016: £9.4m) as a result of the expansion in our longer term, lower interest rate loan product.
Like its smaller rival Ramsdens Holdings (LON:RFX), H&T realised there were major opportunities in products related to pawnbroking. As you can see, its personal loans offering has taken off very well. I'm hoping to see it keep growing in size and maybe even start to rival the pawnbroking pledge book in the years to come.
Jewellery retailing is reportedly also going well, including through the development of click-and-collect online sales.
Finally, the outlook statement is confident. CEO comment: "Demand for our products remains strong and we look forward to the future with confidence."

You can see for yourself the evolution of H&T's earnings forecasts over the past year: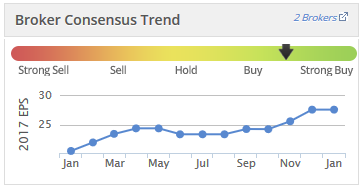 The updated EPS forecast now is likely to be pushing 30p, based on increasing another 7-8% from here.
Checking some gold/GBP charts, the average price of gold in 2017 was indeed materially stronger compared to 2016.
H&T has a lot more going for it, though, than just the price of gold.

The personal loan product (see here) is very competitive for that segment…

Unlock the rest of this Article in 15 seconds
Already have an account?
Login here