Small Cap Value Report - Tue 2 July 2019 - DIA, HAT, FCH, SOLI, IMO, MLVN
Good morning, it's Paul here.
Graham has asked me to point out that he added a big section on Creightons (LON:CRL) to yesterday's report, later than usual. In case you missed it, here is the link to yesterday's completed SCVR.
Also, Graham is intending to write some sections for today's report too, on NAR and HAT, which i will incorporate into this report when he sends his work over to me.
So it should be a bumper report by the close of play!
---
Please see the header for which companies I'll be looking at today. I think this also incorporates all the reader requests in the comments section, at the time of writing.
Share price: 346p (down c.30% today, at 10:42)
No. shares: 32.5m
Market cap: £112.5m
Trading update & Directorate changes
Dialight plc (LSE: DIA.L), the global leader in LED lighting for heavy industrial applications today publishes a trading update for the year ending 31 December 2019, ahead of its half year results to be published on 5 August 2019.
There's a nice clear summary of the key points, which saves me time in having to summarise a load of narrative!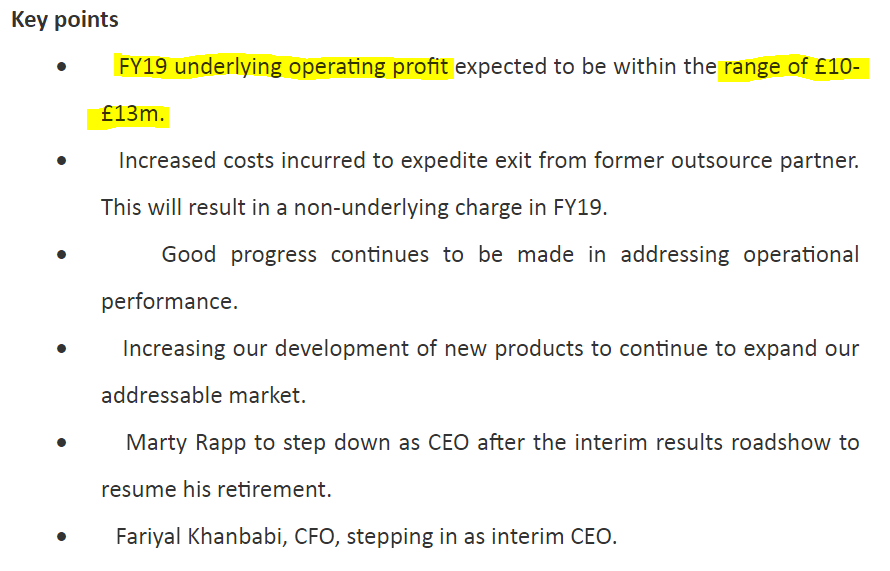 The key question then, is how does the £10-13m range for profit guidance in 2019 compare with previous guidance & broker forecasts? Since the share price is down 30% (a standard profit warning price movement), then I'm guessing it must be well below previous forecasts.
Unfortunately, I cannot find any recent broker research, so am in the dark here. Stockopedia shows a 2019 forecast for net (i.e. after tax) profit of £10.8m, before today's profit warning, which seems fairly close to the revised guidance given today, if we were to take off say 20% for tax, then £10-13m range before tax, becomes £8-10.4m profit after tax revised guidance. Compared with the £10.8m previous post-tax forecast, it doesn't look to be too bad a profit warning (although I'm working on incomplete information).
Balance sheet - I always carefully check the balance sheet of any company which has warned on profits, to see if there might be any solvency issues. We've recently seen how problems at Staffline (LON:STAF)…

Unlock this Article with a 14 day free trial
Already have an account?
Login here