Small Cap Value Report (Wed 23 May 2018) - AIEA, FST, SND, OPTI, BOTB
Good morning, it's Paul here!
There's plenty of news to report on today. A reader has asked me to look at Marks and Spencer (LON:MKS) results. I'm just printing off the RNS, and will have a look at it later. EDIT: I've read the MKS results, but as it's late now, I'll type up my thoughts in tomorrow's report.
Airea (LON:AIEA)
Share price: 54p (down 10.7% today, at 10:10)
No. shares: 41.35m
Market cap: £22.3m
(at the time of writing, I hold a long position in this share)
The unsolicited takeover bid approach from James Halstead (LON:JHD) has fallen through, with no agreement reached. It's interesting to compare the nuances of the statement from JHD here, and Airea's response here.
As you can see from the candlestick chart below, there was a big initial spike down in price first thing this morning. This is because the market makers would always heavily mark down any share where bid talks have ended unsuccessfully. Then they wait to see what happens in terms of buyers/sellers, and subsequently move the price in line with demand & supply, trying to keep as near as they can to a neutral book.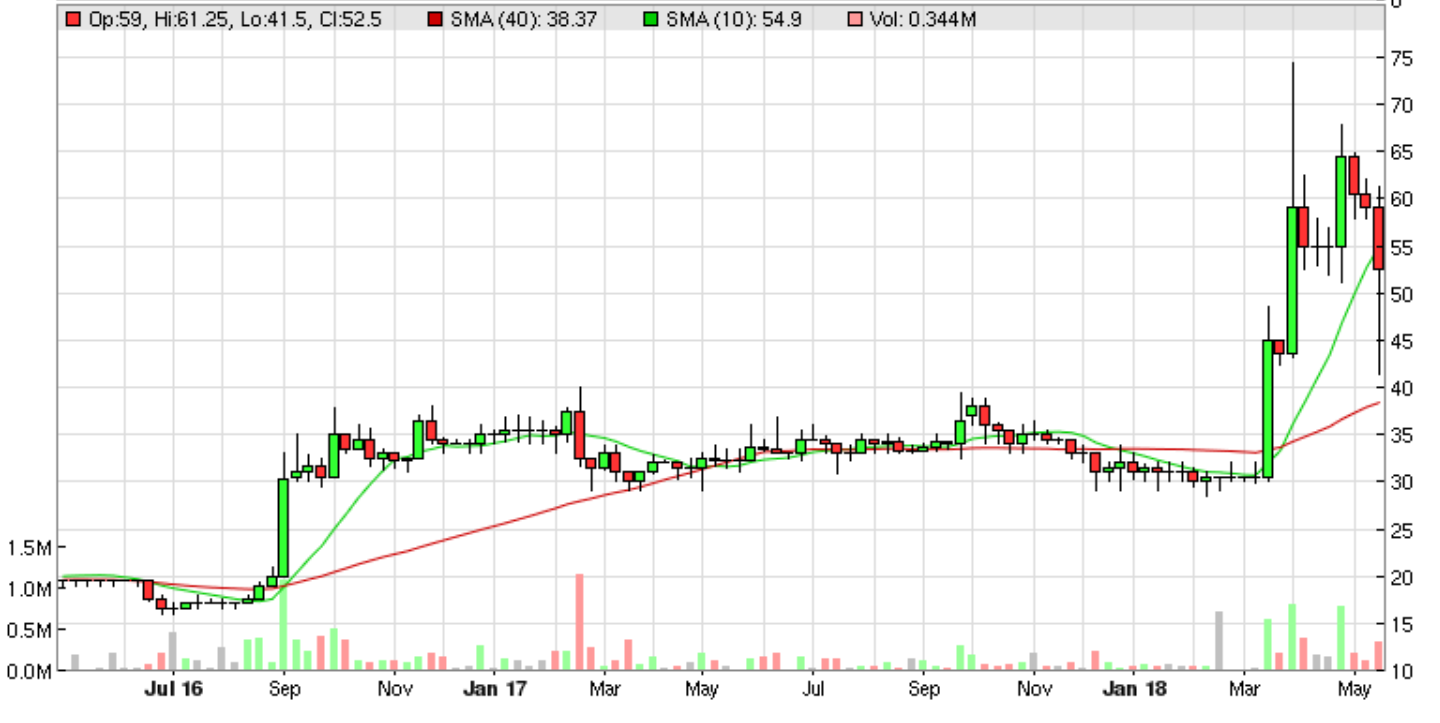 There seemed to be plenty of buyers in the market, and the price seems to have settled at 54p has 
Fellow shareholders that I've been discussing this share with, on Twitter, seemed to be hoping that the bid talks would fail. Why? Well it's because the company announced very positive outlook for future profitability. I reported on that here on 21 Mar 2018. That's why I'm holding this stock, not for a takeover bid.
Therefore I think today is a transition day, when shares are passing from people who were hoping for a takeover bid, to people who are more interested in the company's organic growth potential.
Also, the liquidity that happens on a day like this means that people who wanted to buy shares, but couldn't get any, might be able to pick up a few. Anyway, I'm relaxed about the situation, as this is a long-term holding for me - I've…

Unlock the rest of this Article in 15 seconds
Already have an account?
Login here