Stock in Focus: Can housebuilders keep Super Stock status as insiders sell?
This week I'm going to take a look at news from SIF portfolio stock Redrow, as well as the wider housing sector. After a week of insider selling, is the tide about to change?
But before I delve into the murky world of UK housing, I'd like to flag up a ShareSoc investor seminar in Leeds next week, at 5.30pm on 19 September.
This event is free for anyone to attend and the venue is only five minutes' walk from Leeds station. The following companies will be presenting, after which there will be a buffet and drinks, with a chance to chat to directors:
PrimaryBid (online platform allowing private investors to participate in placings)
I've been to several ShareSoc seminars in Leeds and would recommend them. The presentations are interesting and it's rare for small investors to get a chance to chat freely with company directors.
The event will be hosted by ShareSoc director and respected private investor David Stredder, so you'll also get a chance to chat with him. These events aren't viable without a certain level of attendance, so they're worth supporting. For more details and to register, go to: https://www.sharesoc.org/events/sharesoc-growth-company-seminar-leeds-19-september-2017/
Straws in the wind?
Let's get back to business. Stockopedia currently ranks most of the big UK housebuilders as Super Stocks. They've certainly been excellent investments in recent years. But I'm becoming increasingly concerned that this situation may soon start to change. My concerns haven't been helped by a wave of insider selling.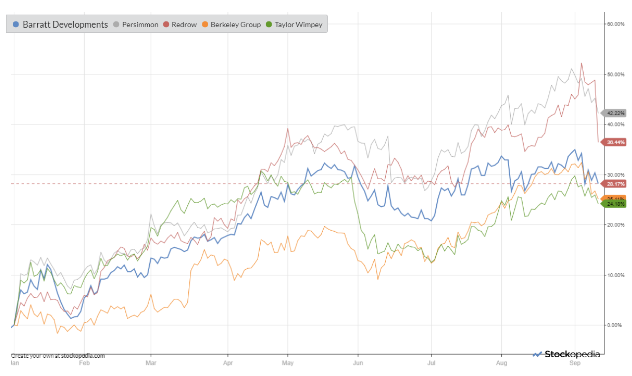 Housebuilders have performed well this year, but is progress faltering?

The latest firm to hit the headlines is Redrow, which is a SIF portfolio stock. Last week saw the shares bounce higher after a record set of full-year results. Pre-tax profit rose by 26%, and the order book ended the year up by 14% at £1.1bn, a new record.
However, these gains were reversed when the stock closed down by 9% on Tuesday. The trigger for this sharp drop was the news that two entities associated with company founder Steve Morgan had sold about 7% of his holding in the firm, collecting around £153m.
Mr Morgan remains the largest shareholder, with a stake of about 33%. According to the placing announcement, the proceeds will be used to diversify his…

Unlock the rest of this Article in 15 seconds