Stock in Focus: Why I won't be adding JD Sports Fashion to the portfolio
Is JD Sports Fashion about to follow its budget rival Sports Direct International into the retail sin bin? Or was last month's 20% decline just a short-term blip in the company's stellar progress?

With no new stocks to add to the SIF Portfolio this week, I'm going to take a closer look at one of the top stock market performers of recent years. Let's not forget that even after last month's slide, JD Sports' share price is still 10 times higher than it was five years ago.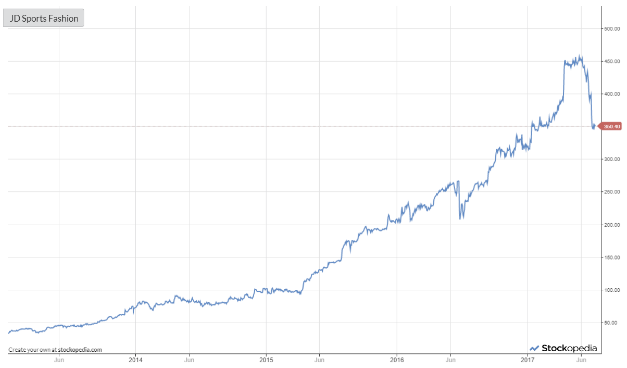 What's gone wrong?
For most companies, issuing an 'in-line' trading statement would leave their share price unchanged on the day. The problem for companies which continually beat expectations is that the market starts to price in this outperformance. This can lead to problems.
When JD Sports advised investors to expect a full-year result "in line with market expectations" on 29 June, the shares fell by 13% in one day. This compounded the weakness seen since late May, when the stock hit a 52-week high of 462p.
In fairness, management commentary did seem to justify a cautious view. Founder and executive chairman Peter Cowgill said that calendar differences would affect the timing of clearance sales and thus like-for-like sales. He cited the Muslim festival of Eid and also pointed out that last year's Euro 2016 tournament would make for tough comparatives this year.
Mr Cowgill then went on to warn that the firm was facing "margin pressure in achieving sales growth". In other words, management have been forced to cut prices by more than expected in order to hit sales targets.
Were investors being softened up for a possible profit warning, or is this business as usual for a big retailer? I'm not sure. City analysts have chosen to give Mr Cowgill the benefit of the doubt. Broker forecasts have remained flat in July: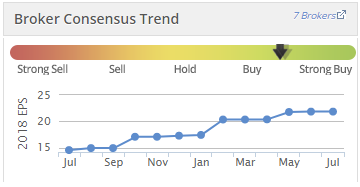 Still a high flyer?
It's worth noting that despite last month's slide, JD Sports still has a StockRank of 90 and StockRank Style of High Flyer. The only classification that's changed is the firm's RiskRating, which has moved from Balanced to Adventurous. This signifies a higher level of expected volatility, as a result of the recent share price movement.
Although you might expect last month's share price slide to have resulted in…

Finish reading with a 14 day trial
Already have an account?
Login here