Stockopedia at Mello 2018 - A quality line-up, awards and investor camaraderie
You wait all year for an investment conference, and then a few turn up together. That said, the two-day Mello 2018 event in Derby last week was in a different class. Here, there was quality stamped right across the schedule: from the speaker line-up and company presentations to the packed-out panel discussions. Show organiser David Stredder (@Caremensfella) and his team made it look effortless. Their planning meant Mello 2018 felt like a social occasion as much as anything else.

Networking, camaraderie (and just a little partying!) set this event apart, but there was no compromise in the breadth of the presentation schedule. Both days kicked off with 'Live Small Cap Value Reports' from Stockopedia writers Paul Scott (@paulypilot) and Graham Neary (@grahamneary). Those sessions were predictably standing room only. Paul and Graham returned for additional slots on both days - and you can see a full video of Paul's stock-picking session here.
Thereafter, the Mello team had arranged presentations running concurrently across four main rooms through both days. On the Thursday that started with a Women & Investing panel discussion chaired by Lucy Tarleton of PWC, together with Tamzin Freeman (@tamzinpiworld) of PI World, Judith MacKenzie of Downing and Leon Boros (@Boros10). Judith was back on stage later on, in between presentations from Gervais Williams, Lord (John) Lee, Ken Wotton of Livingbridge and Phil Oakley (@PhilJOakley).
Winning awards!
Day 1 wrapped up with the Mello 2018 Awards - and we were delighted that Stockopedia was voted winner in the Favourite Share Research Platform category. We've got a growing and very committed team at Stockopedia and it's really inspiring to win this kind of award. It's recognition that more and more private investors are genuinely benefiting from the powerful investment tools and research that we're putting in their hands.
Meanwhile, Paul came away with awards for Best Share Blogger and Favourite Private Investor - which were thoroughly deserved and we were over the moon that he got that recognition. Paul went on to win Thursday evening's poker tournament, too - although Graham took top spot on the Friday.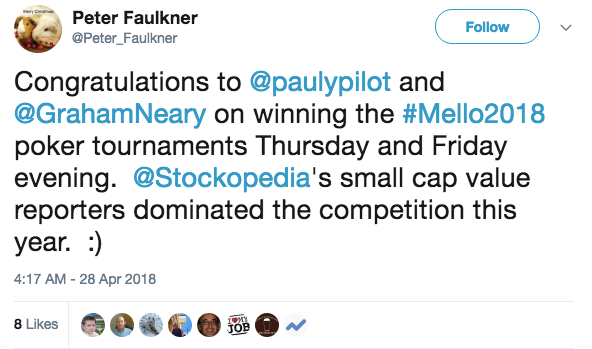 One of the interesting things about the way the Mello team organised the awards was how they put the focus on individual investors as well as companies and…

Unlock the rest of this article with a 14 day trial
Already have an account?
Login here