This is one of my long standing holdings which has delivered excellent returns for me over
the years. As I have written before it is one of those family run businesses which Lord Lee is fond of backing and indeed I think he has been in this one in the past. Any way I digress, but the stock concerned is S&U (LON:SUS) which is now a £240 million market cap. car loan company which also has a fledgling bridging loan operation. So why mention it today? Well they have their AGM today and have put out a trading update statement ahead of that.
This confirmed continued strong trading despite what the share price might have been suggesting. If that is of interest you can read the announcement and learn more about S&U at their investor relations website. Here you'll also find links to some Proactive Investor Interviews with Anthony Coombs, chairman of S & U. I thought the last one, which you can view here if
your want, was interesting as he seemed to be pretty confident about on going growth as they only take a small proportion of all the loans they are offered by their panel.
Cutting to the chase I think the shares look good value down here on around 10x this years forecast earnings with a 5% yield based on both of these growing in double digits, which seem likely given the latest update and the Chairman's confident comments in the interview after the
finals in April. Looking at the chart you are would not getting in at the top if you were to buy in now as the they have come back from over £25 to their current £20 or so.

Looking at the chart below I have drawn on the trading range and what is called a triangle formation by connecting the highs in the recent downtrend and it looks like it might break out of this triangle one way or the other fairly soon. The theory is I believe that it should
then move by around the height of the triangle which in this case is roughly 500p. So that would suggest targets on a decisive break, of either £15 or £25 which would be around the old highs which could then act as resistance.
My money is obviously on a breakout to the upside, but as ever you pay your money and take your choice. In the meantime I'll continue to enjoy the 5% yield including the 39p final worth 1.95% which is due to go XD on 15th June.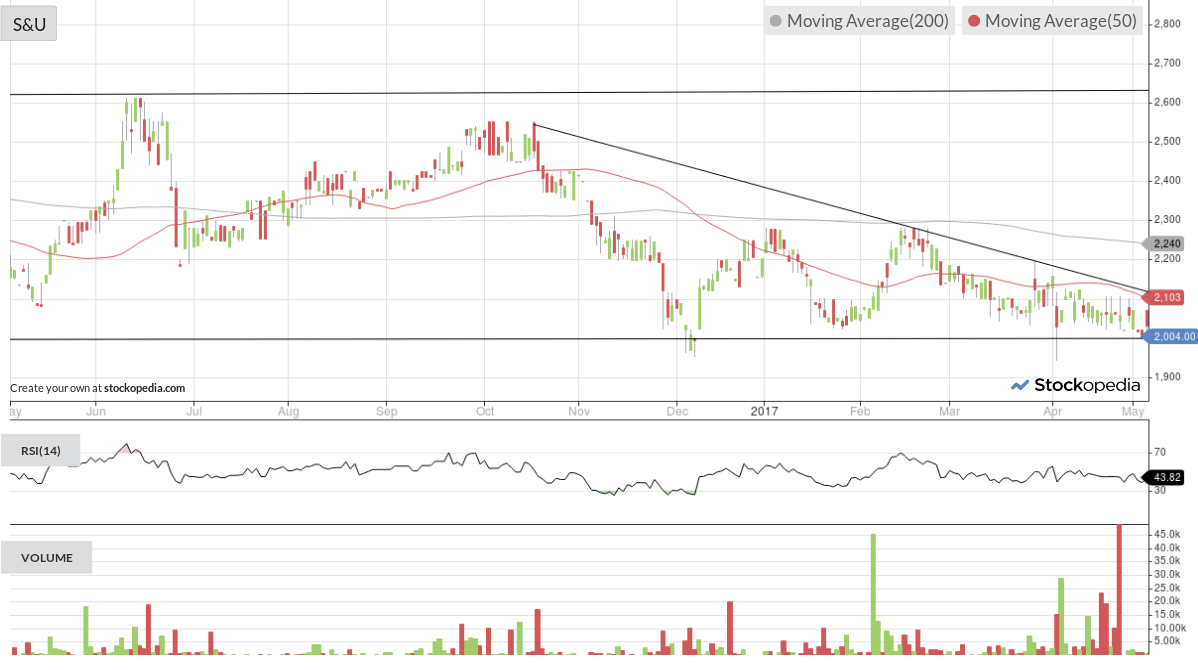 Disclaimer:
All the posts and articles on this site are the personal views of the author and should not be construed as investment advice or a recommendation to buy or sell any of the investments mentioned. Readers should remember that share based investments can go down as well as up and you should only invest with capital that you can afford to lose. You should also generally get professional advice before investing unless you are happy to do so without.
---
---

S&U plc is a United Kingdom-based company engaged in providing motor finance and specialist lending service. The Company is focused on the specialist motor finance market. The Company's subsidiary, Advantage Finance Limited (Advantage Finance), is engaged in the motor finance business. Advantage Finance offers motor finance to over 100,000 customers in the United Kingdom. more »

LSE Price