StockRank Movers - Feb 17: End of the house party?
Is the party coming to an end for UK house builders? House prices are still increasing, but recent figures from the Office for National Statistics suggest that the pace of increases could be starting to decline. This trend could be influenced by several factors, including stricter mortgage rules, as well as expectations that interest rates could rise after the general election. This could be bad news, but the market sometimes overreacts to bad news, thereby causing good quality stocks to become undervalued. Is this happening to stocks in the house building sector? Lets take a look at their StockRanks to explore further.
Barratt Developments (BDEV)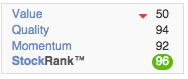 Barratt Developments (BDEV) has a StockRank of 96, compared to 87 in September. However, cyclical companies like house builders tend to slow down when they start to compete for land, labour and materials - pushing costs up and profit margins down. Indeed, Barratt's annual report noted that build costs have ticked upwards. The firm 'saw some upward price pressure on materials, in particular for bricks and timber.' Furthermore, a 'shortage of skilled labour did increase costs, with bricklaying the most affected area.' It is also important to note that although earnings did grow by more than 100% in 2014, Barratt's ValueRank has fallen to 50 - suggesting that the earnings growth may be factored into the share price.
That being said, Barratt's operating profit margins have actually increased from 6.3% (2013) to 13% (2014), while the Return on Capital Employed (ROCE) has more than doubled, from 4.5% (2014) to 10.3% (2014). Furthermore, Barratt plans to build over 2000 new homes in Scotland in order to meet strong demand, while brokers expect earnings to grow by another 25% over the next twelve months. To round it off, Barratt's recent trading statement noted that 'consumer demand across all of our regions has remained robust'. The management team insists that the company 'is on track to deliver a further significant improvement in performance in FY15.'
Persimmon (PSN)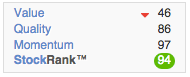 Persimmon (PSN) has a StockRank of of 94, although the ValueRank has fallen to 46. Interestingly, at the start of January Jefferies (the brokers group) issued a research…

Unlock the rest of this Article in 15 seconds