Strix (KETL): reaching boiling point today?
First of all, apologies for the pun in the title, couldn't help myself!
Secondly, I would like to thank Ed at Stockopedia, and Damian Cannon for organising the Stockslam event in London last night - it was an excellent format, and I met lots of great people including the great Paul Scott in the flesh! For note, I proposed Harvey Nash (LON:HVN) as my stock pick at this event (3-minute elevator pitch), you can read more about it in a short article I posted here on Stockopedia recently... 
Now, on to the varied attractions of Strix (LON:KETL)...
£288m market cap at present, and is an AIM100 index member. 
KETL: The ranks
First of all, the ranks - Stockopedia ranks this stock highly at a combined 89 Stockrank, led by 89 for Momentum.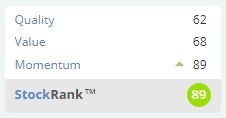 Strong EPS and price momentum
Focusing first on momentum, as it is the most timely indicator to note today - price momentum has broken out to a new high and is today more than 50% above the IPO price of 100p (at issue on August 8, 2017).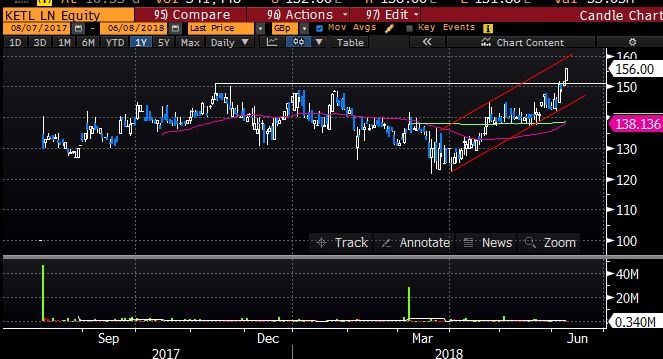 Price momentum is roughly following earnings momentum, as you can see from the broker EPS upgrade back in late April (from the house broker Zeus Capital):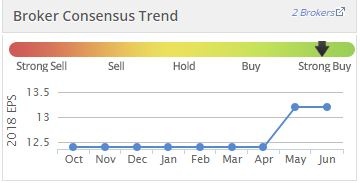 From a purely technical analysis viewpoint, the breakout from the sideways trading range that has existed since the April 2018 IPO suggests a minimum price target of 171p, versus 156p now. 
A great quality business!
On to the business model, albeit very briefly,
Graham Neary of the SCVP likes Strix, as detailed in this SCVP report: https://www.stockopedia.com/co...
Why is this? Well principally because it has great intellectual property (IP) and market share in controls for  kettles, on a worldwide basis. to quote Graham:
 It develops and produces commonly used safety controls in kettles, for which it owns the patents. HQ is on the Isle of Man, and manufacturing takes place in China.

Its numbers are in the billions. Today it reports that it sold its two billionth product late last year. Previously, it reported that its products were being used around the world over a billion times each day.
They have been aggressively…

Unlock the rest of this Article in 15 seconds
Already have an account?
Login here