The Highest Flyers of the FTSE 350
Stockopedia's High Flyers are high quality, high momentum, low value stocks with a history of beating estimates. 
Playing in this area of the stock market can be a high risk / high reward kind of game. This is where the stratospheric multi-baggers tend to hang out - right alongside potential Momentum Traps and Falling Stars.

The giants of tomorrow can be found here. Newcastle-based pie shop Greggs, for example, which, given its current rate of expansion, will surely one day ditch the vegan sausage rolls, invest all its pound coins in artificial intelligence and do battle with Google for global supremacy.

But buyer beware - if the momentum falters and trading disappoints, these high flyers can fall very far. When the Broker downgrades come, evaporating valuation premiums and price multiple contractions can lead to stocks halving (or more) in the blink of an eye.
One recent example of a High Flyer crashing to earth is Gear4music, which has become something of a victim of its own rapid revenue growth. Looking at Its three-year share price chart might leave you feeling like you've just stepped off a rollercoaster: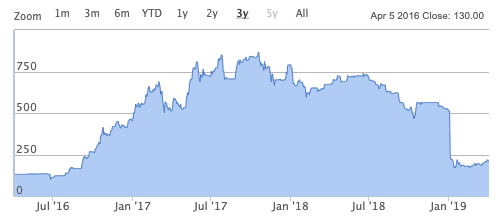 This is not to say Gear4music can't recover from its current capacity and margin issues - it is just a useful illustration of the kind of turbulence that you might anticipate when investing in High Flyers.
Can we de-risk High Flyers by screening for low volatility?
These kinds of shares are more volatile than the market and, because of their high price momentum, they can suffer reversals more strongly than the overall market. So, what happens if we screen out the more volatile High Flyers? Maybe we're left with a valuable subset of low-volatility outperformers.
I've set up two screens to see what differences there might be between more and less volatile High Flyers. One excludes smaller companies by focusing on FTSE 350 stocks with an Adventurous, Speculative, or Highly Speculative Riskrating. The next filters for the same but accepts only Conservative and Balanced stocks. Both tables are sorted by one-year relative strength.
Adventurous, Speculative and Highly Speculative FTSE 350 High Flyers:
| | | | | | | |
| --- | --- | --- | --- | --- | --- | --- |
| Name | Mkt Cap (£m) | RS % 1y | ROCE % 5y Avg | Quality Rank | Momentum Rank | RiskRating |
| | 9,452 | +152.3 | 2.53 | 66 | 94 | Speculative |
| | 8,212 | +99.2 | 89.5 | 67 | 99 | Speculative |
| | 5,261 | +67.7 | 19.6 | 76 | 99 | Adventurous |
| | 1,813 | +67.4 | 43.6 | 96 | 98 | Adventurous |
| | 2,040 | +53.6 | 7.43 | 59 | 89 | Adventurous |
| | 4,441 | +49.5 | 7.53 | 88 | 90 | Adventurous |
| | 2,536 | +48.4 | 9.98 | 72 | 61 | Speculative |
| | 4,870 | +46.6 | 29.9 | 91 | 96 | Adventurous |
| | 1,026 | +34.5 | 45.5 | 95 | 82 | Adventurous |
| Mean | 4,090 | +66.58 | 27.16 | 79.1 | 90.6 | … |

Unlock this Article with a 14 day free trial
Already have an account?
Login here