The StockRanks - five years of market beating returns and ten essential insights
In 2013, a year after we launched the subscription service on the Stockopedia website we had an idea. Having read through hundreds of academic papers, quantitative research notes and books on the subject of stock selection we realised there were some common threads. Why not bring those threads together into a simple, intuitive and effective rating system for stocks?

So were born the StockRanks, which we launched in April 2013 for UK stocks. The system was extended across Europe and other global markets over the next several years. This academically inspired, but intuitive system that ranks stocks for their quality, value and momentum has become the most loved feature of the service. 73% of subscribers tell us it's had more impact on their results than any other site feature.
Reviewing half a decade of insights…
Last month marked the five year anniversary of their birth and led to some reflection. Over this period, the top 10% of UK stocks by StockRank have generated annualsed capital gains of almost 20%. Significant wealth has been generated through their use. Across more than a hundred years stock market history, five years is not long, but the differential returns between high and low ranking stocks do suggest that our approach has merit.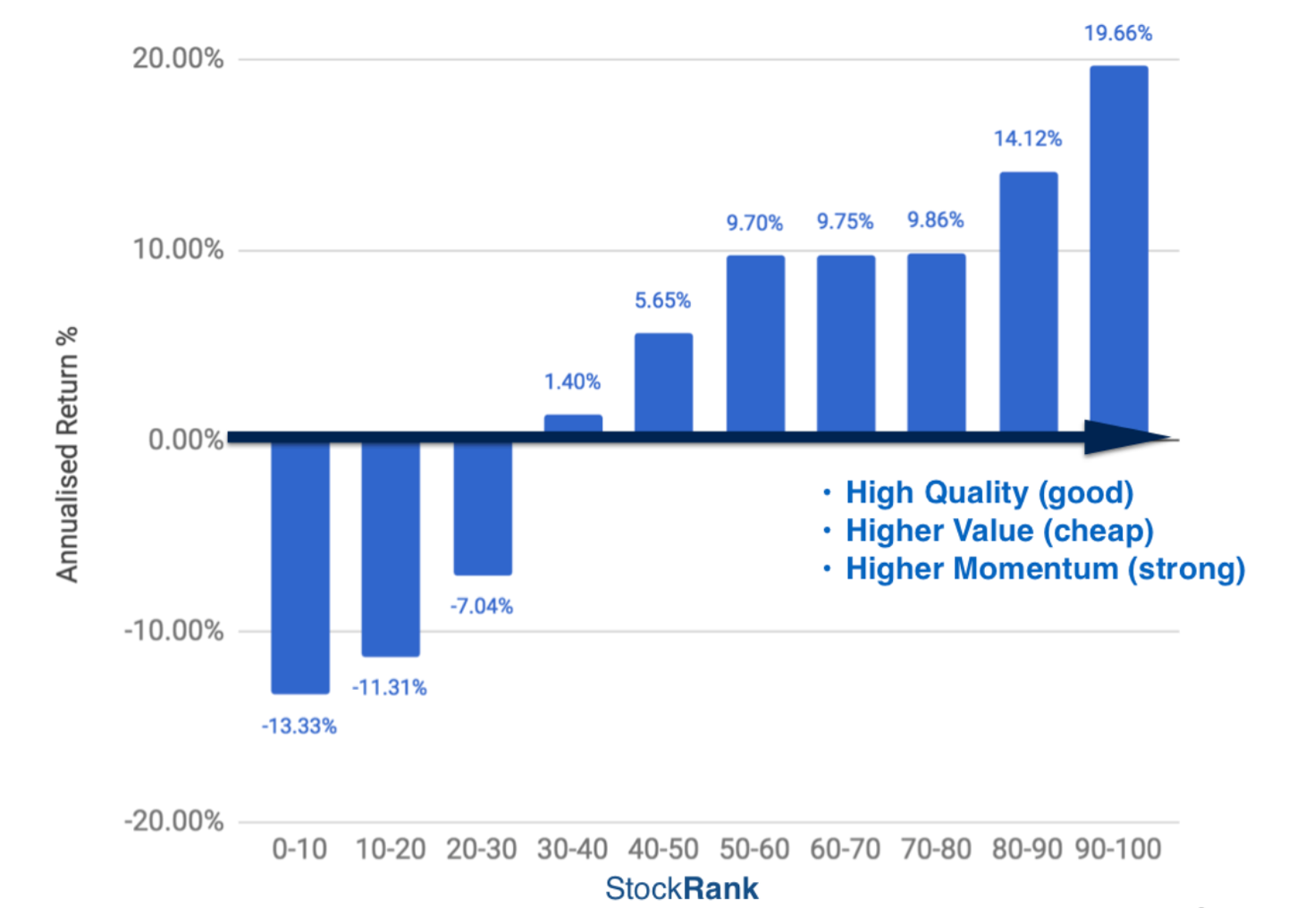 Since 2013 I've published dozens of blogs, videos and webinars about the StockRanks and their use in portfolios which have generated vigorous discussion. Having to respond to such an intelligent community of investors has been one of the most rewarding aspects of my role. It's helped considerably to deepen my thinking on all aspects of investing - especially with regards behavioural biases, factor investing, diversification and rebalancing.
Last week I conducted an extensive but accessible 2 hour webinar covering the construction, history and usage of the StockRanks. It's a deep dive into the foundations of factor investing, ranking systems and their use. Any investor using the StockRanks to help in their own stock selections will benefit from the lessons within. Thanks to Ian for the following compliment on the material:
A lot of ground covered in your latest webinar – Its instant investment expert stuff!
You can watch in your own time at this StockRanks Webinar Link and download the accompanying 125 page StockRanks Slide Deck.

Unlock the rest of this Article in 15 seconds