Top dividend strategy performers in 2014
For most dividend investors high yield is much more important than capital growth. Yet last year many of the dividend strategies tracked by Stockopedia delivered rip-roaring gains - even before taking dividend yields into account. But this year markets have drifted sideways and that has put a great deal of pressure on a lot of the guru-inspired strategies we watch. Dividend strategies however, have held up better than most and the average yields on offer now are better than last year.
Over the year, the aggregate performance of the dividend strategies was a negative return of -0.8% versus -2.5% for the FTSE 100. But individually, most of the screens handily outperformed the market.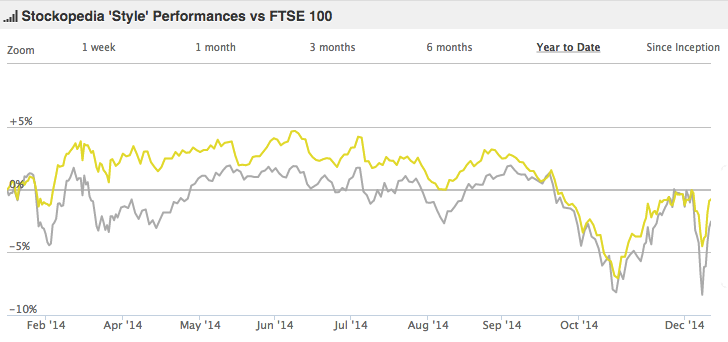 In terms of capital growth, the Best Dividends strategy took top spot over the year, with a 8.9% return. It's an approach that looks looks for companies with a track record of not only making dividend payments, but also growing them over time. One year ago, companies qualifying for the screen offered a rather miserly current median yield of 2.0%. Of the 22 stocks now on the list, that figure has risen to 2.7%. They range from FTSE 100 banking group Old Mutual, on a yield of 4.5%, to small-cap Indigovision, on a yield of 3.3%.
High dividend yield strategies
In second place, with a return of 6.3%, is Forecast Dividend Dogs of the FTSE, which is arguably one of the simplest and most popular income strategies around. Forecast Dividend Dogs targets the 10 highest yielding stocks in the FTSE 100 (in this case, those with the highest forecast yields). It's sister screen, Dividend Dogs (which uses current yields) returned 5.8%. While both strategies offer median yields of around 6.3% (up from 5.3% last year), the differences among the current lists of qualifiers are telling. In particular, supermarkets J Sainsbury, Tesco and Wm Morrison all currently qualify for the Dividend Dogs. But recent dividend cuts at J Sainsbury and Tesco mean that neither make it onto the Forecast Dividend Dogs. With no quality filters, this is a reminder that Dividend Dogs stocks should be checked carefully to ensure they aren't dividend traps.
Previously we've looked at ways of adding a quality element to high yield strategies by using Stockopedia's StockRanks - you…

Unlock the rest of this Article in 15 seconds
Already have an account?
Login here