UK house builders: Are Berkeley Group, Bellway and Persimmon a value buy or value trap?
International Business Times Video
Can anyone solve the UK's growing housing crisis? The new Mayor of London, Sadiq Khan, has a huge challenge on his hands now that he is settled at City Hall. He promised during his election to make 50% of all new homes in London "genuinely affordable".
This is how bad matters have become in London: according to estate agents Savills, first-time homebuyers in the capital now require a deposit equalling 131% of their annual salary.
Only 36% of 25-34 year olds owned their own homes in 2013/14, compared with a massive 66% in 1991 (Chart 1).Just look at the way that adults aged up to 34 have seen home ownership fall as a result of increasingly unaffordable housing – just 9% of 16-24 year olds owned their own homes in 2013/14, compared with 36% in 1991.
To this end, Mayor Khan will use the £400m ($580m, €519m) that remains of the London Mayor's affordable homes budget to support housing associations to build more London homes.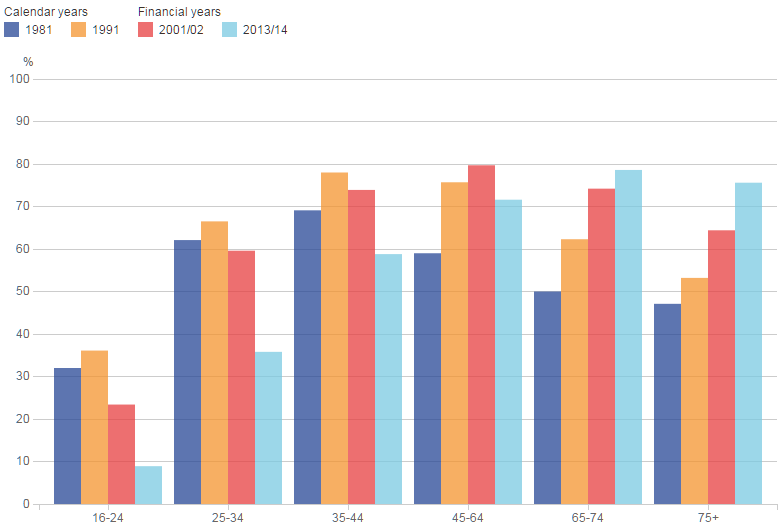 1. The 16-34 age group have seen a collapse in home ownership, ONS
This is not, however, exclusively a London problem. Indeed, back in 2004 the Barker Review concluded that the UK would need to build 250,000 new homes per year just to keep pace with the growing population.
But of course, this has not been achieved.
Matters are now so extreme that housing charity Shelter reported last year that a quarter of all adults under the age of 35 in the UK were still living in their childhood bedroom with their parents.
How big is the UK's housing shortage today?
Estimates vary, and the 2014 Lyons report estimated a shortfall of around 1 million homes.
Just look at the number of homes built per year since 2004, the year of the Barker Review. The National Housing Federation (NHF) assesses the need for new homes at 245,000 across the UK each year. But, in the last 11 years there has not even been one year where that many homes have been built.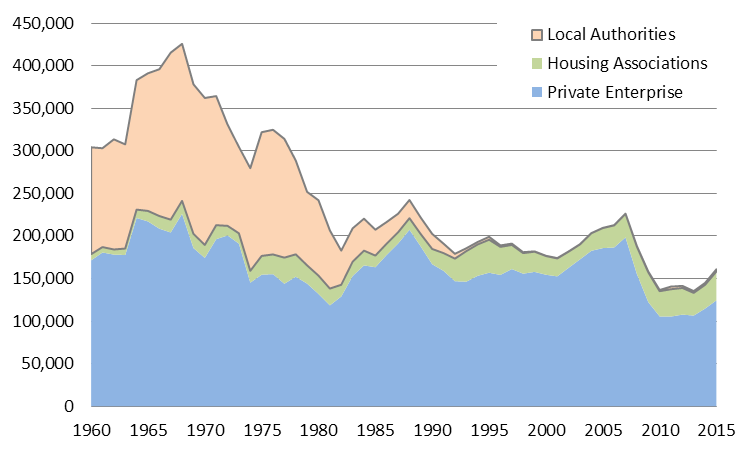 2. Steady decline in house building volumes since the 1960s
Department of Communities and Local Government
If…

Unlock this article instantly by logging into your account
Don't have an account? Register for free and we'll get out your way
Disclaimer:
My opinions only, not investment recommendations: Please Do Your Own Research
---
---

The Berkeley Group Holdings plc is a holding company. The Company, along with its subsidiaries, is engaged in residential-led, mixed-use property development. Its segments include Residential-led mixed-use development and Other activities. Its brands include Berkeley, which creates medium to large-scale developments in towns, cities and the countryside, encompassing executive homes, mixed use schemes, riverside apartments, refurbished historic buildings and urban loft spaces; St George, which is involved in mixed use sustainable regeneration in London; St James, which handles projects that embrace private residential development, commercial property, recreational and community facilities; St Edward, which offers residentially led developments, and St William. Berkeley First is a division of the Company specializing in student accommodation and mixed use residential development within London and the South East. Berkeley Commercial is its commercial property developer and investor. more »

LSE Price

Bellway p.l.c is a holding company of the Bellway Group of companies. The Company is engaged in the building and selling of homes, ranging from one-bedroom apartments up to five-bedroom family homes, as well as providing social housing-to-housing associations. It focuses on providing traditional family housing outside of London and apartments within the London boroughs, in zone 2 and beyond. It operates in 19 trading divisions in England, Scotland and Wales: Durham, East Midlands, Essex, Kent, Manchester, North East, North London, North West, Northern Home Counties, Scotland, South London, South Midlands, South West, Thames Gateway, Thames Valley, Wales, Wessex, West Midlands and Yorkshire. It also offers second-hand homes of various types, such as detached, apartment, terraced, semi-detached, town house, bungalow and penthouse. It also offers various additions covering kitchens, electrical, fire surround and fire, ceramic tiling, flooring, bathrooms and gardens, among others. more »

LSE Price

Taylor Wimpey plc is a residential developer. The Company operates at a local level from 24 regional businesses across the United Kingdom, and it has operations in Spain. Its segments include Housing United Kingdom and Housing Spain. The Housing United Kingdom segment includes North, Central and South West, and London and South East (including Central London) divisions. The North division covers its East and West Scotland, North East, North Yorkshire, Yorkshire, North West, Manchester, North Midlands, Midlands and West Midlands regional businesses. The Central and South West Division covers its East Midlands, South Midlands, East Anglia, Oxfordshire, South Wales, Bristol, Southern Counties and Exeter regional businesses. The London and South East Division includes Central London and covers its East London, North Thames, South East, South Thames and West London regional businesses. It builds homes in various locations of Costa Blanca, Costa del Sol and the island of Mallorca. more »

LSE Price