When Santa fails to call.
This time of year tends to lend it self to a reflective mood and thoughts of whether the year just gone can gives any lessons for the one to come.
One such piece was Ed Croft's thought provoking review of 100 years of market history. I mentioned in the commentary to that article that I'd been looking at something similar, but was struggling for a robust data source; so first off I should proffer my thanks to Nick Ray for helping me in that. (Stockopedia is a marvellous community).

(Just to note that I am using  the FTSE ALL share as representative of "the market" in this piece, other indices may give different results and it is certainly likely that markets in different countries will differ).
The title probably gives away that I am looking at the failure of the Santa Rally to deliver in 2018.
The first question to ask is of course :
Is the Santa Rally even "a thing"?
Well at first sight the fact that the market has gone up in December 77% of the time over the last 39 years, doesn't sound that impressive given that markets tend to go up most of the time.
In actual fact, though it is quite significant in the proper context.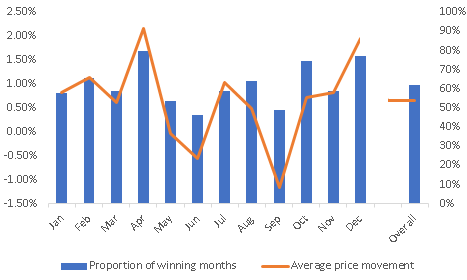 December has in fact been the second best performing calendar month over the period only slightly behind April. The 77% 'success rate' shows that the market has only failed to rise in December 9 times (including this latest instant) in the last 39 years.

As an aside, that I may come back to in the future, this chart also gives strong support to the old adage that one should "sell in May and go away, don't come back 'til St Ledger day(mid September)".
But we are in a down market so it's unsurprising that December was down surely?
Perhaps or perhaps not.
Somewhat unscientifically, I divided the market in to upswings and downswings as per this graph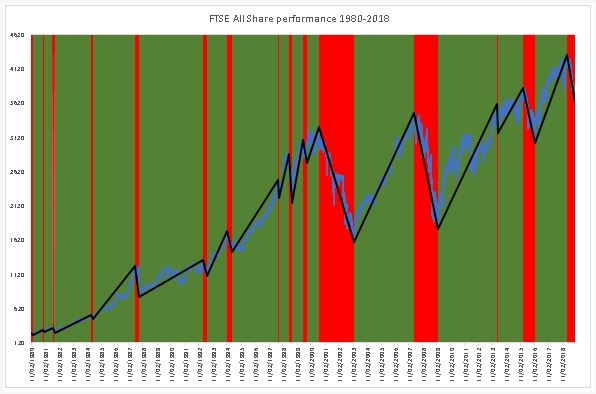 What this reveals is that December has fallen during a down-phase on eight occasions (including now 2018), but on four of those occasions the Santa Rally has held and the market still rose in December.
In fact  one of those instances (1980) was during a down leg  that only ran from late November to Mid-January - so one could make a…

Unlock the rest of this Article in 15 seconds
Already have an account?
Login here