Why signs of euphoria mean it's time to reassess your portfolio
In the study of stock market cycles, there's a view that investor mood is fairly predictable. In confident conditions, emotions shift upwards through optimism, excitement, exhilaration and then euphoria. But it's when euphoria arrives that some will tell you that prices are about to turn south. As Sir John Templeton once warned: "Bull markets are born on pessimism, grow on scepticism, mature on optimism and die on euphoria."
In recent weeks there's been a sense that euphoria has been creeping into part of the market - especially among previously fast-paced growth stocks. In our interview a couple of weeks back with Stockopedia's small-cap analysts Paul Scott and Graham Neary, that was certainly their view.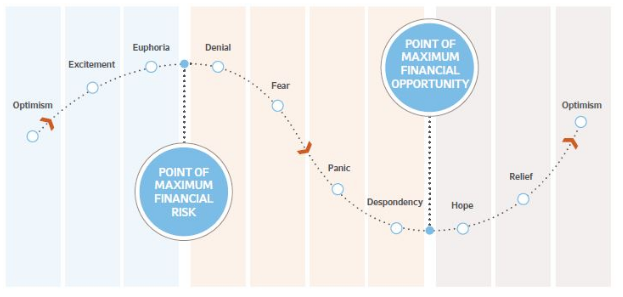 Source: Russell Investments

But gauging these sorts of market trends is difficult, particularly when there are so many other economic uncertainties. All the main UK indices have taken a breather in November, but we're yet to see the kind of sharp correction that some have been predicting. And those predictions might be wrong anyway.
What we've seen instead are sharp price movements in stocks that have undershot expectations. That's perhaps a hint at how vulnerable some shares are if their performance fails to live up to their stretched valuations. They could quickly see the euphoria surrounding them melt away.
In these conditions - when some investors feel unbeatable - it's perhaps more important than ever to look again at areas of potential risk in a portfolio. It's been a while since we've visited some key portfolio management ideas. And with the end of 2017 in sight (and all the portfolio housekeeping that brings), it's worth having a quick run through them...
Basic risk management - stop losses
The FTSE 100 - an index that means more to some investors than others - is up 4.0 percent (excluding dividends) in the year to date. The AIM All Share is up 20.6 percent.
Last year, Ed did an analysis showing that since 1984, the average annual return from the FTSE 100 was 6.7 percent. Over the period, there were 23 up years and 10 down years. More to the point, there was a loss once in every three years and a 'really bad loss' (of more than eight percent) once in every five years.
The lesson here is that it's impossible to…

Finish reading with a 14 day trial
Already have an account?
Login here