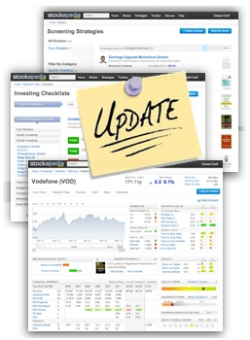 Summer is traditionally the time of year where people's attention rightly turns to family and holidays. It's often the first time of the year that people get to take a step back and reflect on what matters most. That's certainly what we are doing and we wish you all the best for the last of the summer wines. But August is also often the time that people look back on their New Year's Resolutions and wonder how they could have kept them better.
Certainly we noticed that huge numbers of investors ploughed back into the Stock Market in the first quarter of 2013 giving fillip to a strong rally in the indices. But since March most of the major UK indices have remained rangebound with barely a bean on offer to those who bought tracker funds. Disappointing to say the least.
A time for stock pickers to shine...
But it's in these environments that the sharper stock market investor can shine. An FT article this week outlined how finally the market environment has changed to the extent that stock pickers are again beating the broader risk on/risk off driven indices - and certainly the stellar portfolio performance of one of our subscribers and blog contributors ExpectingValue illustrates this perfectly.
Beyond this Stockopedia's Guru Screens have started dramatically outperforming again - with the market especially rewarding good value, quality stocks with rising share prices. Since March Stockopedia's Composite of Screens has risen almost 10% while the FTSE 100 and All Share have remained largely flat. Meanwhile Stockopedia's Screen of Screens has risen 12% and those subscribers using these selection tools have enjoyed excellent results.


How to keep an eye on what works...
In order that subscribers can keep track of these statistics and find opportunities in great stocks more quickly we've recently redesigned the homepage. We see this as the first step towards providing a central resource where subscribers can keep an eye on everything going on both in the market and around the site. Every widget on the page has a small blue link icon in the top right of the box that allows you to quickly navigate to the related section deeper in the website for further research.
The top of the page includes recent editorial from some great writers on markets and quick links to popular columns on the site including Paul Scott's Small Cap Value Report and Ben Hobson's missives on Screen Reviews.
There are some key forecast market statistics - PE Ratio, Earnings Growth, Dividend Yield. These are the median ratios across the entire UK or European Edition of the website.




Many sources quote market cap weighted averages which we believe are skewed too heavily to large caps. Given our subscribers like to hunt amongst the smaller and mid cap stocks in the market it's more appropriate to keep an eye on these numbers.
There's also a small widget that shows intraday breadth statistics for the day's trading. The number of new share price highs and lows and advancers and decliners on a daily basis in the market can often signal turning points. It's best to invest in markets showing strong breadth.


Special Offer: Invest like Buffett, Slater and Greenblatt. Click here for details »
A birds eye view of screens and rankings
Two extra sections allow subscribers to keep an eye on screens and rankings. We love the at a glance measure of the composite screen performances across different styles. These may well be better benchmarks for your own portfolio performance than the FTSE indices which tend to be too heavily weighted towards the mature giant businesses in the FTSE 100.
While we are yet to incorporate our evolving proprietary StockRanks into the Stock Reports (and we will do soon!) we have had many requests to make them more visible around the site.
The section on the home page incorporating rankings provides a brilliant jumping off point not only to the top ranked stocks across Quality, Growth, Value and Momentum but also to a cookbook of screens that use them. Subscribers can use these as great starting points to find stocks that have the qualities that may outperform the market over the longer term.
Get Involved!
To avoid falling into average stock market performance investors need to remain pro-active not only in selecting potential market winners but also and more importantly weeding out the low quality, poor performers that can be a terrible drag on results. Stockopedia's toolkit is unique in giving you straightforward ways to isolate the financially defunct shares you really ought to be avoiding while uncovering the kinds of good value, higher quality, improving stocks that can beat the indices.
If you are still sitting on the sidelines considering taking charge of your portfolio we will give you a nudge to sign up today. The great thing about running a service such as this is that so many subscribers come back and let us know about how the service is improving their performance - please do read the testimonials !
And, in other news, by popular demand, we've started work on the US Edition of Stockopedia - if you'd like to sign up for the beta and enjoy discounted access, you can now do so here.
There's
value
in the stock market
but do you know where to look?
Get the most concise synopsis of everything that's been proven to work in value investing. If you like your stocks cheap you've found a treasure trove distilled to under 70 pages.
How to find ultimate Bargain Stocks with Ben Graham
How to spot Turnarounds and avoid Value Traps
From Graham to Greenblatt via Piotroski & Lakonishok
How to value stocks and set a margin of safety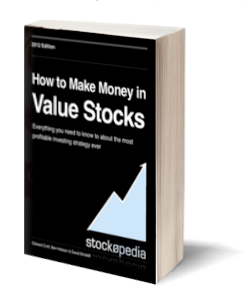 Disclaimer:
As per our Terms of Use, Stockopedia is a financial news & data site, discussion forum and content aggregator. Our site should be used for educational & informational purposes only. We do not provide investment advice, recommendations or views as to whether an investment or strategy is suited to the investment needs of a specific individual. You should make your own decisions and seek independent professional advice before doing so. Remember: Shares can go down as well as up. Past performance is not a guide to future performance & investors may not get back the amount invested.
---
---