Games Workshop - capacity, operational gearing and hidden assets
I recently met with Games Workshop (LON:GAW) to talk about the prospects of this singular British success story.
It was more of a chat about the company than a formal interview, and the coffee shop we met in was bustling. I made notes as best I could and you can find my scribbles translated into (thankfully, more legible) Arial font below, sorted under a few broad subjects. It's a little messy but it's an improvement on my actual notes, which look as though I was taking them while strapped to a space rocket.
First off, here is how the group is valued by the stock market and by Stockopedia's own Ranks: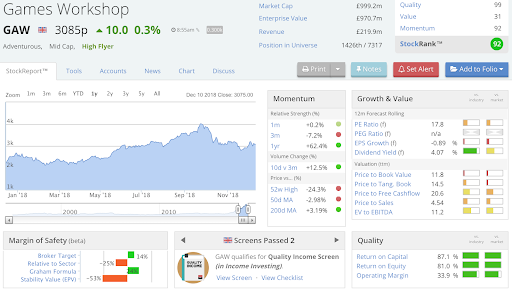 A few things jump out:
The group has a market cap of £999m but an enterprise value of £971m, meaning it has net cash
It has a StockRank of 92 and is classified as a High Flyer
Its Momentum Rank is high but has fallen
Stockopedia's 'Momentum' figures paint a mixed picture
This is backed up by the share price chart, which shows that GAW shares have retreated from all-time highs over the past two months or so
It has a Quality Rank of 99 and extremely high ROCE, ROE, and operating margin figures
It currently qualifies for two screens (Martin Zweig Growth Screen and Quality Income Screen)
First, a quick introduction to the company for the uninitiated.
Games Workshop has endeared itself to people around the world with its Warhammer brand of fantasy content and the detailed worlds and factions therein. Its core business is in producing and selling "high quality miniatures" that can be painted and deployed as part of various tabletop games.
Over the group's forty year existence, it has expanded into a range of other media. The depth of intellectual property is significant, and Games Workshop content can now be found as books, board games and video games.
Its popularity with investors has increased following a dramatic upturn in profitability over the past two years. To put its share price performance into perspective, here is a chart from the company's most recent accounts: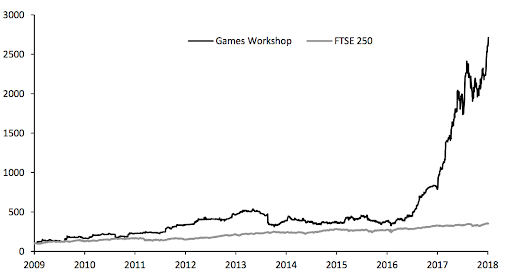 This growth is pretty stratospheric. However, the only broker that follows Games Workshop (Peel Hunt) is forecasting a slight fall in earnings per share in the year, from 182.3p to 168.5p per share. This gives GAW a PE ratio of 15.5 times rising to 16.8…

Unlock the rest of this Article in 15 seconds
Already have an account?
Login here