Getting burned in August
Ouch….

It's been a bad month. The portfolio has lost almost 6% of its value, and 6 of its 20 shares have hit sell rules. In the same period the FTSE has lost only a little over 1%. Further, while overall stockranks have gone down, they have only lost 2.2% this last month.

So what's been going on?

Sells
Majestic wine
Ocean Wilsons Holdings
Plus 500
Hansteen Holdings
Pennon
CMC markets

Sell analysis
So, is the issue that my sell rule is too tight, or my buy criteria aren't good enough…. Or just bad luck?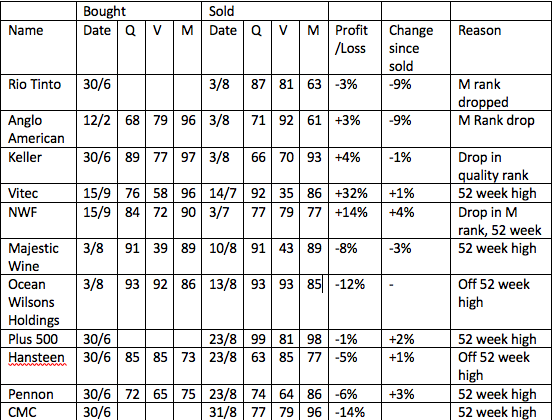 From reviewing sells and reasons, drop in M rank was a good predictor, except for NWF. Maybe rather than 80, a little more leniency to 75 or 70? However, being off a 52 week high wasn't a great predictor. Usually it felt appropriate as I'd just lost some past gains. However, out of 7 times (I'm excluding CMC as only just happened) I was tapped out by 52 week high, in 5 cases I'd have been marginally better off staying in, in once case it made no difference, and in the other I'd have only lost a further 1%. While the time scale is limited, and it is possible these shares fall further and have just had a slight rebound, I think the 52 week high rule hasn't worked properly.

I do think, however, there is something wrong with my buy rules. 6 of the shares I bought at the end of June were sold within 2 months, plus two from last month.


What is going on?
I've had several holdings tank on, frankly, not even bad news – just not as good as expected. My assumption at the time was that these are fundamentally strong companies, but that are overvalued and so the slightest wiff of company results or market conditions not going their way has cause the price to drop. However, I don't think it is all about the sell rules. Yes, this has been a bad month for the FTSE and stockranks generally, but the fact I've been hurt 3x as much suggests to me that this is at least partly about how I'm selecting stocks.

I've tried to see a pattern…

Unlock the rest of this Article in 15 seconds
Already have an account?
Login here