Is it time to quit the day job?
Is it time to quit the day job?
As the title implies, I am giving serious consideration to giving up my day job and fully focus on investing, and I would really appreciate the thoughts and advice of the Stockpedia community to help with the following questions;
1. Should I quit the day job and focus on Investing full time?
2. As investing will be my only Income, what should do to keep my family financially safe and secure?
Investing with no idea -No investment plans, no analysis, no rules.
Having sold a property and having lots of cash looking for a home just before the 2008/9 credit crisis, I placed a lot of money into the stock market. I chased beat-up stocks, with no analysis and no plan. With stock markets going down and banks looking cheap I thought this was the best place to put all my cash into the market stock market believed I was about to make a fortune. It did not end well with investments losing more than 50% of its value in 2008 and taking 5 years to break even.
Why I'm considering quitting the day job this year
Since 2009, I have read plenty of investment books and joined Stockopedia in 2012, which has contributed to my understand and knowledge about investing in stocks and building a portfolio. I now always think about my returns pre-Stockopedia (-11%) and post-joining Stockopedia (20% plus). I disclosed the yearly return including the dividends below for a more complete picture.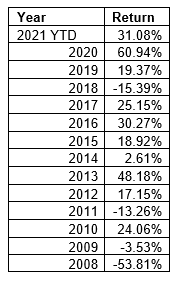 The last few years have been exceptional with covid imposing lifestyle changes on everyone. For me, it is one of working from home and saving time traveling to work and clients. This has given me time to test run what might be possible with a more hands-on investment strategy. Having grown the portfolio value by more than 20 times my take-home pay, with profits all wrapped up in tax-free ISA's, I seriously considering quitting the day job and investing full time.
I invest using a buy and hold long-only strategy, using technicals to add to positions. 25-35 stocks are held based on personalized rankings and evaluated every Quarter. Selling is predefined based on the stock fair valuation and market cheapness/expensiveness.
Plans to keep the family financially safe and secure.

The biggest worry in executing…

Unlock the rest of this article with a 14 day trial
Already have an account?
Login here