Robbie Burns interview - Lunch with the Naked Trader
Ahead of taking him to lunch at his favourite restaurant, I'd agreed to meet Robbie Burns at his office (a second home) on the banks of the Thames in west London. It later transpires that the place has been be a pretty smart speculation in London's booming property market. But after a couple of hours with him it's clear that like a lot of things, Robbie's relationship with wealth is at times both serious and fairly easy going.
He's a man content and appreciative of his own success and the comfort that it's given his family. But there are no flashy cars or expensive hobbies. In fact, material details don't always matter to him. You start to see that as soon as you reach the front door…
"The doorbell isn't working at the moment so call me when you get there!"
Robbie Burns is the Naked Trader. A decade after writing his eponymous guide to 'how anyone can make money trading shares', it's now in its fourth edition. Over the years his loyal readers have followed him through booms, crashes, bubbles, successes and failures. He's won a place in their hearts for his no-nonsense, down-to-earth prose that literally laughs in the face of complicated investment speak. By keeping things simple, wearing mistakes on his sleeve and encouraging individual investment he's built a very successful brand around himself.
Later this year there'll be three more books from him. Among them will be an update to The Naked Trader's Guide to Spread Betting, a second on trading psychology and the third will be Robbie's debut novel.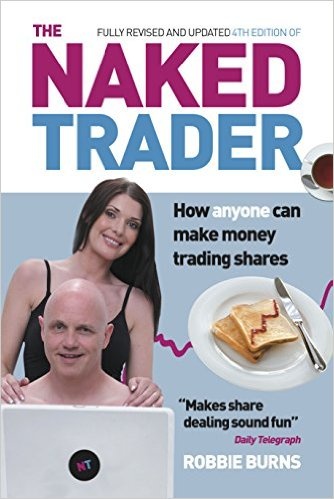 While the original book is cheeky, laddish and readable, there are some hard-hitting messages in it. For a start, it's clear he's very sensitive to the risks of behavioural mistakes. He frequently warns about the perils of making decisions driven by emotion. Deep down, the book is about taking a checklist approach to trading. He suggests looking for profitable, growing companies that aren't debt laden. Dividends are important (mainly to cover trading costs), the shares have to be reasonably priced and they need positive price momentum behind them. He also take a ruthless view on losing positions, cutting early, often with a stop loss. It's a strategy that makes a great deal of sense, but it needs discipline too.…

Unlock the rest of this Article in 15 seconds
Already have an account?
Login here